Lockheed F-35 Full-Production Decision, Key Test Delayed
Lockheed F-35 Full-Production Decision Delayed as Key Test Slips
(Bloomberg) -- Pentagon officials have delayed approving full-rate production of Lockheed Martin Corp.'s F-35 jet because combat simulation testing that's needed before that key decision on the $398 billion program has slipped into next year.
The testing that was originally scheduled for 2017 and most recently for December has been postponed again because of difficulties finishing technical preparations. Now, both the testing and the production decision "are scheduled in 2021," Jessica Maxwell, spokeswoman for Defense Department acquisition chief Ellen Lord, said in a statement.
If the combat testing had begun in December, it would have taken an additional two to three months after its completion to transfer and analyze the data and then draft the final report for delivery to Pentagon leaders and Congress. That would put it in March of next year.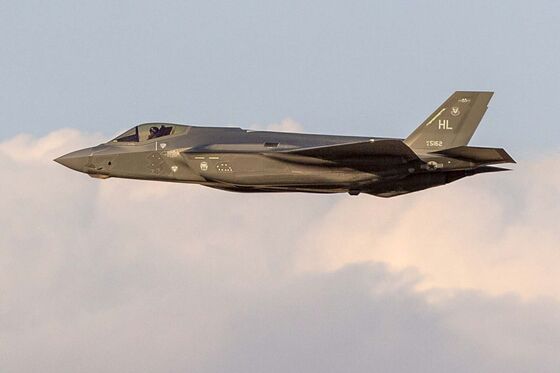 Now both events have slipped, Maxwell said. The F-35 program office "currently estimates" that the new test delay "will not support a March 2021 date." It is "preparing an updated project schedule based on measured progress to date," she said.
The delay means that if Democrat Joe Biden wins the White House, the F-35 milestone may be his defense secretary's first major acquisition decision.
A full-rate production decision would be a seal of approval from the Defense Department to U.S. taxpayers and foreign customers that the fighter jet has been fully tested, deemed effective against the highest-level threats, can meet its maintenance goals and can be produced efficiently.
F-35 production will continue under its current low-rate production phase "in accordance with congressional authorization and appropriation," Maxwell said. As of Oct. 1, more than 570 of the planes have been delivered to the U.S. and allied militaries in what's planned to be a program of more than 3,200 jets.
The one-month "Joint Simulation Environment" combat test will use a full replica of the F-35 cockpit rigged with its combat sensors and electronics. A pilot at the Patuxent River Naval Air Station in Maryland will operate in a fully functioning simulator with a 360-degree view that depicts classified air and ground threats and incorporates allied aircraft as well.
The simulation exercise was supposed to be ready three years ago but "the program has struggled to develop the complex software and functionality needed to complete" it, the Government Accountability Office said in its annual program report in April.