Linde, Praxair Win U.S. Antitrust Nod to Create Gas Giant
Linde, Praxair Win U.S. Antitrust Nod to Create Gas Giant
(Bloomberg) -- Linde AG and Praxair Inc. won approval from the U.S. antitrust enforcers for their $46 billion merger, paving the way for the companies' two-year bid to create the world's largest supplier of industrial gases.
The Federal Trade Commission said Monday it approved the deal on the condition that Linde and Praxair sell assets to resolve concerns that the combination would otherwise hurt competition.
The disposals pushed Linde to lower its outlook for cost savings from the tie up, pledging between $1.1 billion and $1.2 billion over three years compared with $1.2 billion previously, according to a statement. It didn't give a date for completion of the deal.
Investors cheered the FTC green light, sending Linde's tendered shares up as much as 7.4 percent in Frankfurt. Praxair stock jumped 3.5 percent in New York.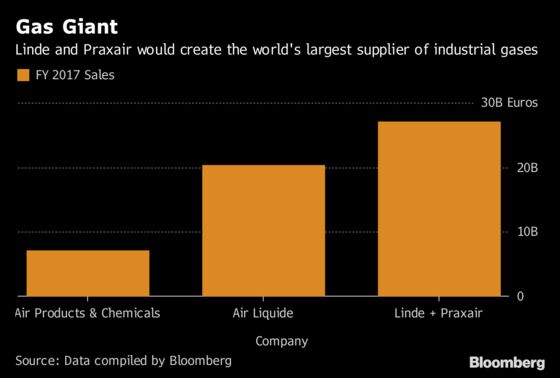 The transatlantic combination will allow Linde and Praxair to leapfrog French rival Air Liquide SA to become the biggest supplier of gases like oxygen, nitrogen and helium to factories and hospitals around the world. Approval from the FTC, which came just ahead of an Oct. 24 deadline, was the last major obstacle for the companies after they got a conditional nod in August from the European Union.
Their quest for the merger has been a long one. Talks began in 2016 but collapsed within months, leading to the departure of top executives. They were rekindled, although quickly hit up against a series of hurdles including opposition from unions, shareholder skepticism and tough demands from antitrust regulators that has led to pledges for billions of dollars in disposals. The FTC asked for the sale of:
Linde's U.S. bulk liquid oxygen, nitrogen and argon business
Plants in Clear Lake, Texas, to Celanese Corp, and a La Porte, Texas site to LyondellBasell Industries N.V.
Five Linde plants outside of the Gulf Coast, and a pipeline in the Gulf Coast, to Matheson Tri-Gas Inc.
Before these, Linde and Praxair had already agreed to sell:
$3.3 billion worth of Linde facilities to a consortium of German industrial-gas supplier Messer Group GmbH and CVC Capital Partners
Praxair's entire European operation for almost $6 billion to Japanese rival Taiyo Nippon Sanso Corp.
"The merger of Linde and Praxair is a compelling and transformative combination and an unparalleled opportunity," said Linde Chairman Wolfgang Reitzle, who will keep the same role at the combined company. As he helps steer the deal toward completion, the executive has come under criticism from German unions for breaking with the country's longstanding tradition of consensus building between labor and management over strategy.
The nod from the FTC is first decision on a major merger since Chairman Joe Simons took over the agency as chairman early this year. He is hosting a series of hearings to consider retooling and toughening merger enforcement amid criticism that antitrust officials have been too lax in policing deals, leading to increasing concentration across the economy.
The FTC voted 4-1 to approve the settlement with Commissioner Rohit Chopra dissenting. Chopra said the combination, even with the asset sales, "is not without risks to competition." The FTC should have required Messer and CVC to notify the agency of plans to sell any of the business they're acquiring.
To contact the reporters on this story: Oliver Sachgau in Munich at osachgau@bloomberg.net;David McLaughlin in Washington at dmclaughlin9@bloomberg.net
To contact the editors responsible for this story: Anthony Palazzo at apalazzo@bloomberg.net, Tara Patel
©2018 Bloomberg L.P.