LG Energy's Record $10.7 Billion IPO Set to Price in South Korea
(Bloomberg) -- LG Energy Solution is set to price Friday its initial public offering that's poised to be South Korea's largest on record, amid a frenzy for new issuance that has dominated the market over the past year.
The battery maker and its parent LG Chem Ltd. are expected to raise up to 12.75 trillion won ($10.7 billion) by selling 42.5 million shares. Institutional investors have oversubscribed the offering by more than 1,500 times, the Seoul Economic Daily reported, citing unidentified people in the investment banking industry.
Even if priced at the bottom of the marketed range at 257,000 won, proceeds would exceed past annual amounts raised in South Korea, with the exception of 2021, data compiled by Bloomberg show. At the top price of 300,000 won, the size would be more than double Samsung Life Insurance Co.'s 4.9 trillion won IPO in 2010, the nation's largest deal to date.
At that level, it would also be the world's second-largest IPO over the past year, behind Rivian Automotive's $13.7 billion U.S. deal in November. Nine companies that raised at least $500 million through new share sales in Seoul since January 2021 priced them at the top of the range, Bloomberg data show.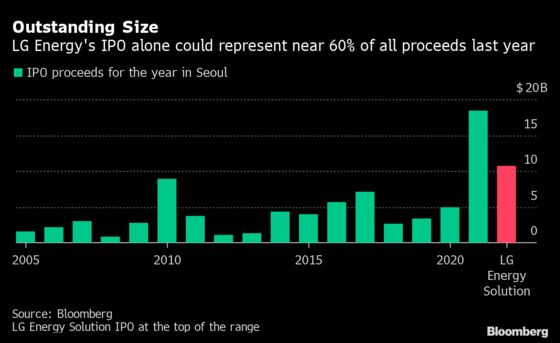 LG Energy "has attractive fundamentals with a strong backlog, healthy revenue growth and improving margins," said Arun George, an analyst at Global Equity Research Ltd. who publishes on Smartkarma.
The mega IPO provides investors with some diversity in South Korea's market, which has seen a flurry of listings in the tech and healthcare space, buoyed by strong participation from retail investors. Biopharmaceutical firm SK Bioscience Co. was the world's top gainer last year among IPOs that raised more than $1 billion.
READ: Krafton Flop Aside, Korea Is Bright Spot for Listings: ECM Watch
LG Energy's market capitalization can reach nearly 100 trillion won after the listing, according to Kang Dong-Jin, an analyst at Hyundai Motor Securities Co. "Given the size of the energy market in the long term, it has high growth potential," Kang wrote in a note.
LG Energy is slated to start trading on Jan. 27.
Read More:
LG Energy Comes Out With Fighting Words for CATL Ahead of IPO
LG Energy Solution Battery IPO Values It On Par With Peer: React