Builder Stocks Slide; Fitch Withdraws Ratings: Evergrande Update
Land Sales Slide; Sunac Dollar Bond Interest: Evergrande Update
(Bloomberg) -- Fitch Ratings withdrew its grades on three more Chinese developers, highlighting ongoing transparency issues that may curtail further gains for stocks and dollar bonds in the sector.
A gauge of developer shares fell 2.3% Thursday, a fourth-straight decline, as the sector continues reversing its recent bounce. Chinese high-yield dollar bonds dropped about 1 cent on the dollar, according to credit traders, with higher-rated builders among the biggest decliners. 
Elsewhere, Zhenro Properties Group Ltd.'s key onshore unit received investor approval to push back payments by a year on a slice of its debt. And, investors in one of China's major distressed-debt cases face a new worry after an unusual development that's raised questions about whether money owed in a restructuring will be able to leave the country.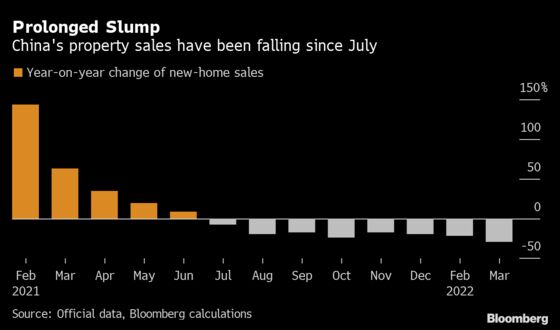 Hong Kong Developers May Convert Farmland in Cheaper, Faster Way
Sunac Bondholders Say They Haven't Received Interest Due Tuesday
Hengda Real Estate to Hold Creditor Meeting (8:14 p.m. HK)
Hengda Real Estate Group Co., Evergrande's onshore unit, will hold a meeting on April 25-26 with holders of its 8.2b yuan bond to vote on proposal for repayment extension, Hengda said in a filling.
Zhenro Gets Approval to Extend Repayment of Security (3:46 p.m. HK)
The developer's onshore unit will delay repaying most of a 627 million yuan ($97.3 million) asset-backed security tranche by a year, according to a filing to the Shanghai Stock Exchange's private disclosure system.
The proposal was to pay accrued interest and 10% of the principal on Friday's original maturity date, with the balance to be delivered on April 22, 2023, the document said. 
Higher-Rated China Builders' USD Bonds Pace Sector Weakness (2:11 p.m. HK)
Higher-rated issuers led declines among Chinese developers' dollar bonds, alongside fresh weakness in the sector's equities. 
CIFI Holdings Group Co.'s 6.55% note due 2024 fell 3.1 cents on the dollar to 80.3 cents, according to Bloomberg-compiled data as of 2:04pm in Hong Kong. Country Garden Holdings Co.'s 6.5% dollar bond due 2024 dropped 2.1 cents to 78.5 cents, on pace to match its day-earlier decline.
Twist in Major China Debt Case Risks Stranding Money Onshore (10:11 a.m. HK)
Investors in one of China's major distressed-debt cases face a new worry beyond defaults and bond restructurings: payments being able to leave the country.
Tsinghua Unigroup Co., a linchpin of China's race for advanced technology that began defaulting in 2020, plans to repay offshore dollar bondholders' recovery funds in yuan given the restructuring process is a domestic court procedure. That prompted the trustee Citicorp International Ltd., a unit of Citigroup Inc., to caution there's no assurance it will be able to receive or remit funds offshore as government approval is required. 
The development stands out, given there haven't been reports in previous Chinese restructurings about any such plans to repay offshore guaranteed bonds in yuan. 
Ratings Withdrawals Bad News for China Property Investors (9:53 a.m. HK)
Fitch withdrew its ratings on three more Chinese developers, highlighting ongoing transparency issues that may curtail further gains for stocks and dollar bonds in the sector.
The firm separately announced the moves involving Sunac China Holdings Ltd., Shimao Group Holdings Ltd. and Logan Group Co. on Wednesday, saying the trio stopped participating in the ratings process. They were downgraded a combined five times in March by Fitch, moving them all below the single-B range. 
China's Local Land Sales Revenue Tumbles in Q1 (8:10 a.m. HK)
Revenue in the first three months of 2022 from selling rights to use state-owned land fell 27.4% from the same period a year ago to 1.2 trillion yuan, according to Ministry of Finance data released Wednesday. That drop follows the biggest sales slump on record for the first two months of 2022.
The slide poses a test for cash-strapped local authorities, who rely on land as a source of income yet already face pressure to bolster economic growth by cutting taxes and spending more on infrastructure. 
Sino-Ocean Green Bond a Positive for Developers: Nomura (8:02 a.m. HK)
A green dollar bond from Sino-Ocean Group Holding Ltd. backed by a standby letter of credit is positive for debt refinancing in China's property sector, especially if some other higher-rated Chinese developers follow with their own deals, says Nomura.
The sale totaled $200 million, according to a person familiar with the matter.