Kim Jong Un's Hypersonic Missiles Show He Can Hit U.S. Back
(Bloomberg) -- Just before dawn Tuesday, Kim Jong Un watched as a hypersonic missile took flight, "leaving behind it a column of fire," and adding a new weapon in his arsenal that could potentially slip past U.S. defenses and deliver a nuclear bomb.
The rocket deployed a hypersonic glide vehicle that successfully hit a target at sea after flying roughly 1,000 kilometers (620 miles) and performing a 240-kilometer "corkscrew" maneuver, the official Korean Central News Agency said. Kim supervised the launch, making his first reported appearance at a weapons test in almost two years and underscoring the importance of a missile that would "help bolster the war deterrent of the country."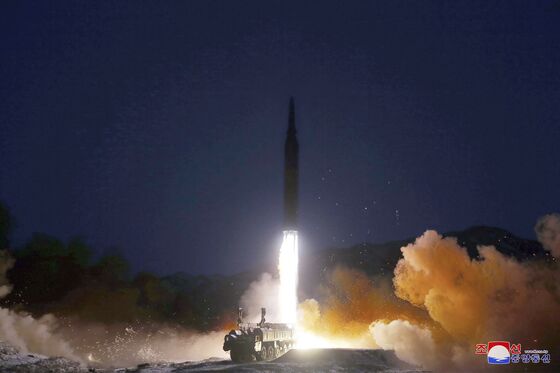 While North Korea's claims weren't immediately verified, the launch was symbolic of a shift in the regime's testing program. For more than two years, Kim has been focused on churning out a range of missiles developed to evade allied defense systems and make the idea of any U.S.-led preemptive attack too costly to contemplate. 
That may help deter another confrontation with the U.S. like in 2017, when former President Donald Trump threatened "fire and fury" and officials talked of a "bloody nose" strike on the country. The tests show that Kim pressed ahead with plans to ward off any future attacks, even after Trump opened unprecedented face-to-face negotiations the next year. 
Duyeon Kim, an adjunct senior fellow in Seoul at the Center for a New American Security, said Pyongyang is trying to create the impression that it can hit back. "Recent advances in its missile program indicate that North Korea still aims to secure a second-strike nuclear capability, make its missiles modern and more survivable, reassure the North Korean people of its military might in regard to the United States, and credibly gain entrance into the nuclear club," she said. 
Kim Jong Un is likely trying to prove he can strengthen North Korea's position among the world's nuclear-armed nations despite crushing economic sanctions. More advanced systems such as hypersonic glide vehicles give Kim leverage in future talks by allowing him to menace U.S. allies such as South Korea and Japan, as well as American bases in Asia.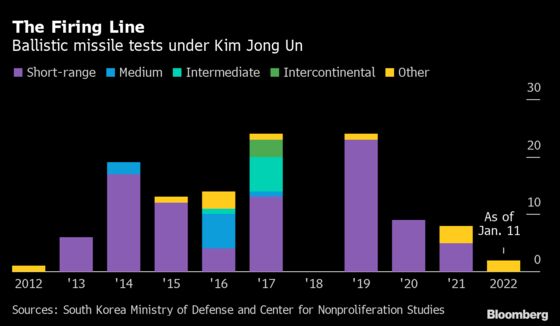 North Korea has so far rebuffed President Joe Biden's overtures, leaving negotiations little changed since Trump walked away from the negotiating table three years ago. Undersecretary of State Victoria Nuland told reporters Tuesday that the latest test "takes us in the wrong direction." 
"The United States has been saying since this administration came in that we are open to dialogue with North Korea, that we are open to talking about Covid and humanitarian support," Nuland said. "And instead they're firing off missiles."
On Wednesday, the U.S. Treasury Department designated five North Koreans living overseas -- one in Russia, and four in China -- for aiding the country's nuclear weapons and ballistic missile programs. The State Department also designated some individuals and a Russian entity, Parsek LLC.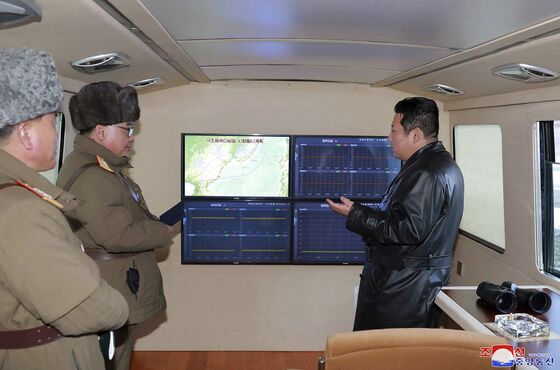 "These designations convey our serious and ongoing concern about the DPRK's continued proliferation activities and those who support it," Secretary of State Antony Blinken said in a statement, referring to North Korea's formal name. "We remain committed to seeking dialogue and diplomacy with the DPRK and call on the DPRK to engage in negotiations."
The launch Tuesday was North Korea's second test of a hypersonic glider in less than a week. Other weapons systems demonstrated in recent months include long-range cruise missiles, a new submarine-launched ballistic missile and nuclear-capable rockets fired from train cars.
"Kim probably wants the U.S. to perceive his threat potential as not only growing, but ever-expanding and with numerous possibilities," said Soo Kim, a policy analyst with the RAND Corp. who previously worked at the Central Intelligence Agency. "This way, he not only ups his game for negotiations -- there's also a surprise element that keeps the U.S. and the international community on their toes." 
During Kim Jong Un's decade in power, North Korea has gone from possessing a rudimentary nuclear bomb with no proven delivery system to likely detonating a thermonuclear device and building a missile that could carry it to the U.S. As punishment, Kim's regime has been hit with international sanctions that have helped make the North Korean economy smaller than when he assumed leadership. 
Defense analysts argue that what North Korea tested in its last two launches probably doesn't qualify as a "hypersonic glide vehicle" because its wings wouldn't provide enough lift for long-range flight. Instead, it was likely a"maneuvering reentry vehicle" that can separate from a missile and perform turns to evade interceptors. 
"Though North Korea has made some claims, the full extent of this capability is unconfirmed," said Joseph Dempsey, a research associate for defense and military analysis at the International Institute for Strategic Studies in London. "However, the ability to change trajectory or flight path could pose additional challenges for regional missile defenses." 
The latest missile -- which flew at almost 10 times the speed of sound -- would also be harder to track by existing allied radar systems, which have long been focused on more traditional trajectories. That has led to some discrepancies in accounts of the launch, with South Korea defense agencies saying the missile only traveled 700 km, not 1,000 km. 
"The North Koreans could be embellishing their achievements, or the limited sensor arrays possessed by Japan and South Korea may have had some trouble coping with this new class of threat," said Ankit Panda, a senior fellow in the nuclear policy program at the Carnegie Endowment for International Peace and author of the book "Kim Jong Un and the Bomb: Survival and Deterrence in North Korea." 
"These tests, I think, are largely accounted for by Kim's own military modernization objectives in the pursuit of effective nuclear deterrence against the U.S.," Panda added. "The North Koreans are not interested in talks right now."