Israeli Startup REE Plans Merger With 10X Capital SPAC
Israeli Startup REE Plans Merger With 10X Capital SPAC
(Bloomberg) -- REE Automotive, an electric-vehicle technology startup, has agreed to go public through a merger with blank-check company 10X Capital Venture Acquisition Corp.
The transaction includes a $300 million private investment in public equity, or PIPE, and gives the combined entity an enterprise value of about $3.1 billion, according to a statement confirming an earlier report by Bloomberg News. REE's existing investors will own more than 80% of the combined company.
REE, a Tel Aviv-based firm led by co-founder Daniel Barel, makes technology to integrate all drive components into the arch of the wheel and flat, modular chassis for autonomous delivery trucks, shuttles and robo taxis. The company says its platform can be used for battery or fuel cell-powered vehicles.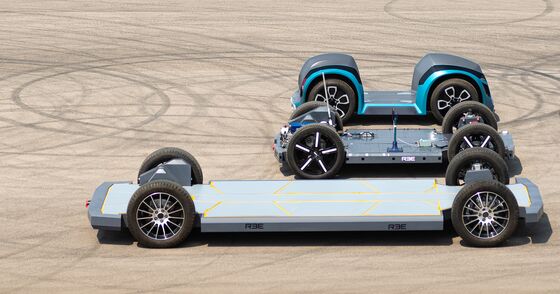 "Merging with a SPAC and becoming public is an important gateway that gives us the ability to scale up and meet demand," Barel said in an interview. "We are here to deliver what we believe can be the cornerstone for e-mobility for the next century."
REE will supply crucial parts to EV makers that don't have the full spectrum of components in-house. By outsourcing, they can bring models to market more quickly and at a fraction of the cost, Barel said.
10X Capital shares soared about 50% before the start of regular trading in New York.
For more, tune into Bloomberg's TOPLive Q&A on SPACs here
In August, REE signed a memorandum of understanding with Mahindra & Mahindra Ltd., an India-based manufacturer, to develop and produce as many as 250,000 EVs. In November, it inked a partnership with Iochpe-Maxion SA to manufacture and develop a wheel design and chassis technology. REE also has tie-ups with Mitsubishi Corp., American Axle & Manufacturing Holdings Inc., KYB Corp., Musashi Seimitsu Industry Co. and NSK Ltd.
REE expects to have 16 assembly plants in locations such as the U.S., Germany and Japan by 2026, with annual capacity of about 600,000 units. It hopes to begin mass production next year, and has signed MOUs for orders worth $5.1 billion through 2026.
The 10X Capital SPAC, affiliated with the New York-based investment firm of the same name, is led by Chairman and CEO Hans Thomas. In November, it raised a little over $200 million in an initial public offering, saying at the time that it would focus on finding high-growth technology and tech-enabled businesses in the U.S. and abroad. PIPE investors supporting the transaction include Koch Strategic Platforms, Mahindra & Mahindra and Magna International Inc.
"REE solves a critical issue in the EV space, we've seen them get a lot of traction and were able to get comfort around the valuation," said 10X's Thomas. "They've got best-in-breed partners that can help them manufacture at scale without having to invest billions of dollars and have a significant head start that's going to create a competitive moat."
Cowen Inc. was the lead financial advisor to REE, while Wells Fargo Securities and JVB Financial Group advised 10X. Morgan Stanley is the lead placement agent on the PIPE offering.
A flood of EV and related companies have agreed to go public through SPACs, including Arrival Ltd., Lion Electric, EVgo Services LLC, Faraday & Future, Lightning EMotors and Microvast.