Ipsen Plunges as FDA Halts Bone Drug Trial in Children on Safety Concerns 
(Bloomberg) -- French drugmaker Ipsen SA had a record plunge after U.S. regulators suspended trials of its experimental treatment for rare bone diseases in patients under 14 on safety concerns.
Two trials were put on hold in children after discussions with the Food and Drug Administration, Ipsen said Friday in a statement. The shares fell as much as 24% in Paris, lopping off 2 billion euros ($2.2 billion) of market value in the steepest decline since they began trading in 2005.
Ipsen acquired the drug, palovarotene, via its $1.3 billion purchase of Clementia Pharmaceuticals Inc. earlier this year. The French company has been under pressure to prepare for competition from cheap generic versions of its lead product, Somatuline, a treatment for hormone-fueled tumors of the stomach and pancreas.
"It will be difficult to invest in the name short-term given this uncertainty for a drug which was due to replace numerically Somatuline," Bryan Garnier's Eric Le Berrigaud, who rates the stock neutral, said in a note to clients.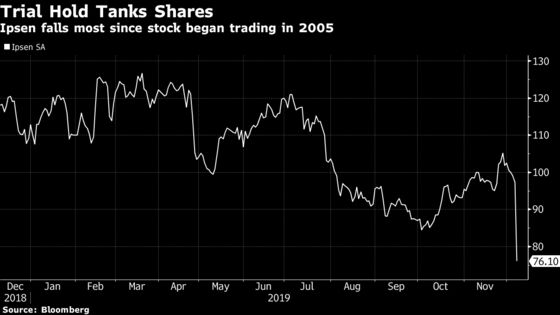 The analyst cut his estimate for annual sales of the drug to 160 million euros from 500 million euros.
Palovarotene is in testing for treatment of two bone disorders: fibrodysplasia ossificans progressiva and multiple osteochondromas.
Studies of the drug in people 14 years of age and older will continue, according to the statement. The company has said it expected the therapy to be submitted for FDA approval in the first quarter of 2020.
Ipsen was founded nine decades ago, and the family of founder Henri Beaufour today owns 56% of the stock. Friday's share plunge slashed more than $900 million from the Beaufour family's fortune, according to the Bloomberg Billionaires Index. Their remaining stake is worth about $5 billion, leaving the Beaufours still one of Europe's richest dynasties.
--With assistance from Ben Stupples.
To contact the reporter on this story: John Lauerman in London at jlauerman@bloomberg.net
To contact the editors responsible for this story: Eric Pfanner at epfanner1@bloomberg.net, Thomas Mulier