Senators Reach Infrastructure Deal; Schumer Preps First Vote
Infrastructure Talks Plow Ahead With Time Running Out in Senate
(Bloomberg) -- A bipartisan group of senators and the White House reached a tentative agreement on a $550 billion infrastructure package, a significant breakthrough in the drive to muscle through Congress a massive infusion of spending for roads, bridges and other critical projects.
The agreement clears the way for a Senate vote Wednesday night that will begin floor consideration of the massive plan. If the procedural vote goes through as expected, the Senate likely could vote on passage this weekend or next week.
"This deal signals to the world that our democracy can function, deliver, and do big things," President Joe Biden said in a statement. It "will help ensure that America can compete in the global economy just when we are in a race with China and the rest of the world for the 21st century."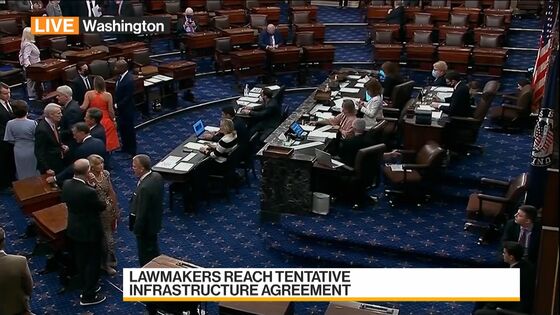 Many of the details of the agreement were still being worked into legislative text. Among the projects getting money, according to the White House:
$110 billion for roads, bridges and major projects
$73 billion for electric grid upgrades
$66 billion for rail and Amtrak improvements
$65 billion for broadband expansion
$55 billion for clean drinking water
$39 billion for transit
$17 billion for ports and $25 billion for airports
$7.5 billion for electric vehicle chargers
"We've got most of the text done so we'll be releasing it and then we'll update it as we get those last pieces finalized," said Arizona Democratic Senator Kyrsten Sinema, who led negotiations with Senator Rob Portman, an Ohio Republican. "We do expect to move forward this evening."
Majority Leader Chuck Schumer, a New York Democrat, expressed optimism and he scheduled the procedural vote for Wednesday night that will clear the way for debate. That requires backing from at least 60 senators. Senate GOP leader Mitch McConnell said he would support beginning debate, which should assure there will be enough Republican support.
News of the compromise lifted the stocks of companies that would benefit from federal infrastructure spending, including concrete producer Vulcan Materials Co. and Caterpillar Inc., the manufacturer of construction machinery
Passing the bipartisan infrastructure bill could allow Senate Democrats to agree to move a separate multi-trillion dollar tax and spending measure this fall carrying most of the rest of the Biden's economic agenda. But a significant obstacle emerged when Sinema released a statement saying that she won't back the $3.5 trillion in spending that other Democrats have put forward.
The bipartisan group and Biden announced agreement on the framework for an infrastructure package in late June. But negotiators struggled in the weeks since on exactly how to distribute the funds and how to pay for it.
A key decision to drop enhanced tax code enforcement to help pay for the proposal help garnered crucial GOP support. But differences over transit funding, broadband and water projects bedeviled bargaining until recent days.
Republicans last week blocked a bid by Schumer to begin a days-long debate without a fully drafted bill. The group of 22 senators along with top White House officials continued negotiating and ultimately resolved final disagreements over transit, broadband and how to pay for the package.
Biden, who served six terms in the Senate and still has strong relationships there on both sides of the aisle, has been heavily involved in the talks. He's had White House meetings with the senators negotiating the deal, including on Monday with Sinema. White House Press Secretary Jen Psaki has said he's also been engaged by telephone.
The agreed-upon package still faces challenges in both chambers.
In the Senate, which is split 50-50 between both parties, 60 votes are required to proceed to the legislation and that could be a challenge.
As many as 12 Republicans were involved at various points in the negotiations, and Democrats may need support from all of them and more to make up for any lost support among Democrats.
Vermont Senator Bernie Sanders, an independent who caucuses with Democrats, said his vote was a "work in progress." Senator Mike Braun, an Indiana Republican, said he is undecided on the bill, which he said numbers more than 700 pages. Wyoming Republican Senator John Barrasso said he would vote against the procedural motion.
Louisiana Republican Senator Bill Cassidy, who was involved in the negotiations, said he expects there are 60 votes to begin debate on the bill.
In the House, where Democrats currently have a four-vote majority, Transportation Committee Chairman Peter DeFazio is demanding that the House make changes to the Senate deal before passing it this fall to include climate provisions and earmarked district projects.
House Speaker Nancy Pelosi said Wednesday that she was "rooting" for Senate success in its emerging bipartisan infrastructure package, but she also would not commit to moving that same measure through the House unchanged.
"The point is, we haven't seen it," she said at a news conference.
Progressive Democrats also have threatened to withhold support for the infrastructure plan, which they argue short-changes the country's needs, without assurance that a $3.5 trillion follow-on package will pass the Senate.
Most House Republicans are expected to oppose the plan, which would hand Biden and Democrats a significant victory to tout in next year's midterm elections.
It has been years since Congress agreed on significant spending on infrastructure, and the package's components have broad appeal that crosses party lines. The legislation authorizes more spending for roads and bridges, upgrades to water systems, improvements in the power grids and expansion of broadband internet service. It would move separately from the $3.5 trillion package entailing much of Biden's economic agenda, which Democrats seek to pass under Senate procedures with no GOP support.
A final barrier to the deal on broadband internet was cleared by Senators Jeanne Shaheen, a New Hampshire Democrat, and Susan Collins, a Maine Republican. It would give people with low incomes $30 per month to pay for broadband internet and require service providers to offer a "low cost plan." It does not set specific prices.
The deal would be paid for by measures like re-purposing $200 billion in unspent Covid-19 relief funds, sales from the Strategic Petroleum reserve, increased customs user fees, government-sponsored enterprise fees and increased reporting requirements on cryptocurrency transactions. It also uses some funding sources that are sometimes called gimmicks, like counting revenue from future economic growth, extending cuts to future Medicare spending that Congress regularly turns off and allowing companies to defer pension contributions, thereby raising their tax burden.
The Senate group's negotiations led by Portman and Sinema began in earnest after a failed effort between Biden and Senator Shelley Moore Capito, a West Virginia Republican, to craft a plan acceptable to members of both parties.