Inflation Ticks Down to 3.1% in 'Relief' for Bank of Canada
The consumer price index was up 3.1% in June from a year earlier, Statistics Canada reported Wednesday in Ottawa.
(Bloomberg) -- Inflation decelerated in Canada for the first time this year, but price pressures continue to run at some of the hottest levels in nearly a decade.
The consumer price index was up 3.1% in June from a year earlier, Statistics Canada reported Wednesday in Ottawa, broadly in line with the 3.2% increase economists were predicting in a Bloomberg survey.
A slowdown from the 3.6% gain in May, the reading exceeds the Bank of Canada's 1% to 3% control range for inflation, but the more muted price increases support the bank's argument that the run-up is transitory. Still, policy makers expect inflation to creep to an average of 3.9% in the third quarter, a level not seen since the early 2000s.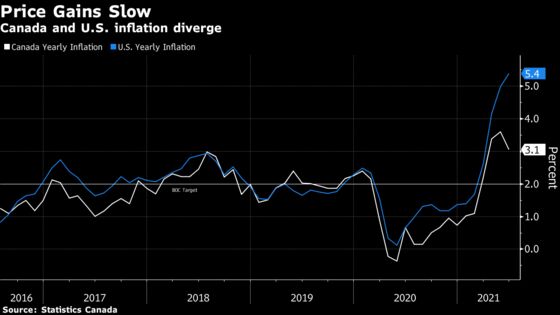 "The BoC was under little sense of urgency since it had revised its inflation projections substantially in the last Monetary Policy Report," Jimmy Jean, chief economist at Desjardins Securties Inc., said by email. "After harping for so many months that base-year effects will wear off, it will be a relief for them to see that prediction coming to fruition without other offsetting interference."
Canada's currency and the yields on government bonds didn't react strongly to the report, with a Federal Reserve policy decision due later Wednesday.
On a monthly basis, prices rose 0.3% versus an estimate of 0.4%. The average of core inflation measures -- often seen as better gauge of underlying price pressures -- was 2.23%, little changed from May.
June's inflation rate was largely driven by higher transportation and housing costs, reflecting continued strength in rental and new home prices. Shelter costs rose 4.4% on a yearly basis, the fastest increase since 2008. Supply-chain bottlenecks are also pushing up prices for hard goods likes cars and household appliances, which have been affected by a global shortage in semiconductor chips.
Governor Tiff Macklem sees supply chain woes easing in coming months. But with widespread reopenings taking place across Canada as vaccination rates increase, analysts say there is a risk inflation could be more broad-based and persistent because of strong demand.
The June data also reflect a new basket weight of goods that Statistics Canada implemented to account for changing consumption preferences during the pandemic.