Infineon Expects 2.5 Million 'Lost Cars' Due to Chip Shortage
Infineon Warns Over Supply in 'Booming' Semiconductor Market
German semiconductor manufacturer Infineon Technologies AG said about 2.5 million cars won't be produced in the first half of 2021 due to ongoing supply chain shortages.
Infineon is a major supplier to automakers, who have been struggling to obtain chips after cutting back orders due to the pandemic. Now, with demand for both consumer-electronics companies and cars roaring back, companies like Infineon are ramping up supply.
"There are roughly 1.5 million cars not being built in the first quarter, and 1 million vehicles not being built in the second," Chief Marketing Officer Helmut Gassel said in a call with analysts on Tuesday. "That's, we think, the best estimate that currently exists."
Infineon posted its results Tuesday, which were boosted by strong demand, but it warned of continued bottlenecks in a manufacturing supply chain that's running at "full speed."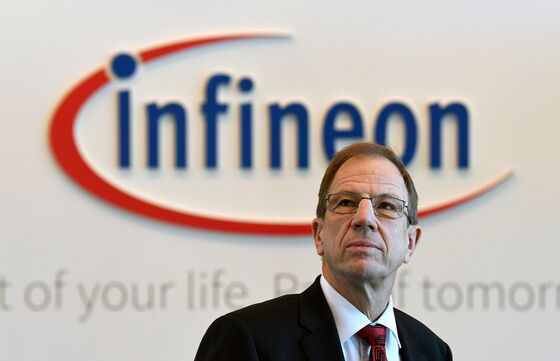 "The semiconductor market is booming," said Reinhard Ploss, chief executive officer of Infineon. However, he added that there are "bottlenecks in those segments where we depend on chips supplied by foundries, especially in the case of automotive microcontrollers and IoT products."
On Monday, Intel's CEO said the global semiconductor shortage roiling a wide range of industries likely won't be resolved for a few more years. Ford Motor Co. said Monday it will halt production at its German plants for several weeks due to a lack of semiconductors.
The shortages as meant strong earnings for major suppliers. Last week rival STMicroelectronics NV reported strong demand for automotive and power products in the first quarter.
STMicro's CEO Jean-Marc Chery said automotive demand "rebounded from Q4 2020 much faster than anticipated and it has caused supply chain constraints across the entire semiconductor industry."
Sales in the first quarter of 2021 hit 2.7 billion euros ($3.25 billion), compared to the average analyst estimate of 2.69 billion euros. Infineon previously guided second-quarter revenues between 2.5 billion euros to 2.8 billion euros.
Third-quarter revenue is expected to be between 2.6 billion euros and 2.9 billion euros, the company said.
The company predicted 2021 full-year revenue guidance remained at around 11 billion euros.
Infineon said its second-quarter revenues were particularly strong in its automotive segment.
Infineon's shares fell as much as 4.4% in morning trading on Tuesday.
"On balance, we believe there could be some profit taking on market open, given limited scope for near-term upgrades," analysts at Citigroup Inc. said in a note to clients.