India Surprises With $20 Billion Tax Cut Stimulus; Stocks Soar
(Bloomberg) -- India's government escalated efforts to repair economic growth with a surprise $20 billion tax cut, taking the rate for companies to one of the lowest in Asia.
Domestic companies will pay 22% tax on their income from April 1, 2019, versus 30% previously, Finance Minister Nirmala Sitharaman said Friday. The effective rate, including all additional levies, will be 25.2% and applicable on companies that aren't availing any incentives or exemptions.
India's key S&P BSE Sensex rose 5.3% in Mumbai, the biggest gain in a decade, and the rupee rallied after the announcement. Sovereign bonds slumped as fiscal concerns came sharply back to the fore.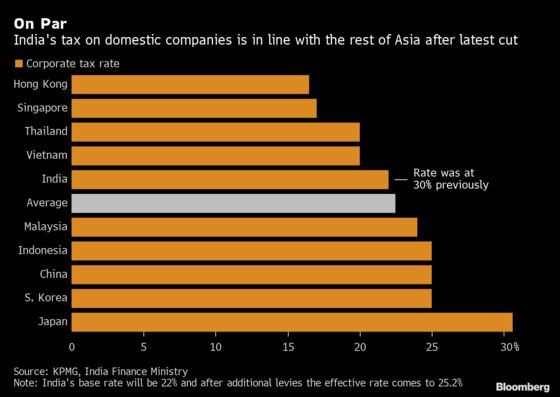 New companies formed from Oct. 1 will attract 15% tax and an effective rate of 17.01%, Sitharaman said. That brings it to the same level as in Singapore.
India joins Indonesia in cutting tax on corporates as Asian economies compete with each other to attract companies looking for alternate manufacturing locations to escape disruptions from the U.S.-China trade war. The 1.45 trillion-rupee ($20.5 billion) revenue loss from the move will test Sitharaman's goal of narrowing the fiscal gap to 3.3% of gross domestic product this year despite a more than $24 billion windfall from the Reserve Bank of India.
"We are conscious of the impact all this will have on our fiscal deficit," she said, without elaborating.
What Bloomberg's Economists Say

"The tax cuts are likely to boost private investment and have the potential to attract much more foreign direct investment. Any fiscal slippage is likely to be limited in the near term, as stronger tax buoyancy will boost growth."

-- Abhishek Gupta, India economist

For the full report, click here, and for more research, here
The government had estimated tax revenue of 16.5 trillion rupees in the year to March, and may now possibly revive plans for the nation's maiden foreign currency sovereign bond sale.
The government's growth support measures, announced in fits and starts over the last one month, supplement the RBI's generous dose of monetary stimulus. Governor Shaktikanta Das, who called the tax cut a "bold move," has led the rate-setting Monetary Policy Committee to deliver 110 basis points of easing this year, while signaling his readiness to do more amid stable inflation.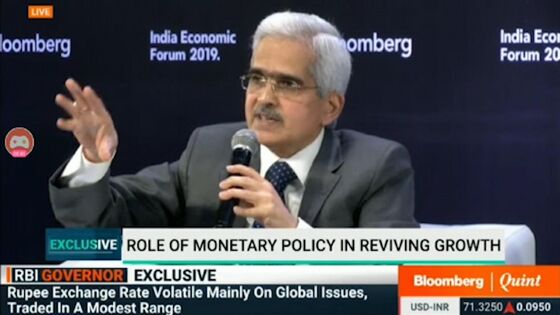 "We are in a state of coordinated policy response both by the government and the RBI," said Madhavi Arora, an economist with Edelweiss Securities Pvt. in Mumbai. "Despite possible fiscal slippage, the RBI would likely deliver further cuts and continue to focus on policy transmission of earlier cuts."
The Monetary Policy Committee is due to announce its next decision Oct. 4.
Several bankers and automakers said the move will help companies increase investment in the economy, where growth slowed to 5% in the quarter to June -- the weakest pace since May 2013.
The step will promote growth and investment, Sitharaman said, speaking from the western Indian city of Panaji.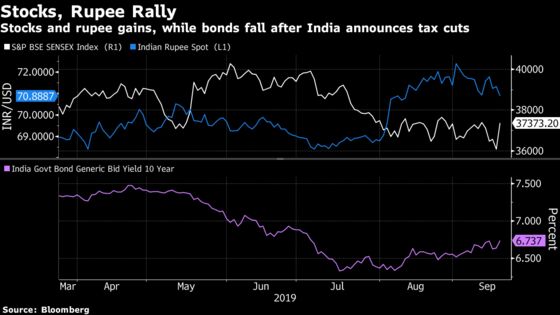 The yield on the benchmark 10-year bond climbed 15 basis points to 6.79%, erasing a previous dip accrued after the central bank chief said there was scope for more easing.
Higher yields could make it tougher to rein in borrowing costs. Policy makers need to ensure that companies can borrow at competitive rates and must improve demand for the goods firms produce, said R. Shankar Raman, chief financial officer at Larsen & Toubro Ltd., India's biggest engineering conglomerate.
"All of these need to fall in place for the investment rationale to be valid for providers of capital," Raman said in a text message. "In all, a good beginning, albeit a year late."
| Company | Corporate Tax Rate | Effective Rate |
| --- | --- | --- |
| | | (Including levies) |
| Company not using incentives | 22% | 25.17% |
| New company formed Oct. 1 | 15% | 17.01% |
"The unexpected fiscal stimulus is positive for sentiment," said Priyanka Kishore, head of India and south east Asia economics at Oxford Economics, Singapore. "Investors will watch closely on how the potential damage to the budget deficit is managed."
For more coverage on the decision:
Tax Cuts May Provide 'Move to India' Impetus for High-Tech Firms
--With assistance from Debjit Chakraborty, Ameya Karve, Subhadip Sircar, Anirban Nag, Anurag Kotoky, Matt Turner, Dhwani Pandya and Subramaniam Sharma.
To contact the reporters on this story: Shruti Srivastava in New Delhi at ssrivastav74@bloomberg.net;Vrishti Beniwal in New Delhi at vbeniwal1@bloomberg.net
To contact the editors responsible for this story: Nasreen Seria at nseria@bloomberg.net, Karthikeyan Sundaram, Jeanette Rodrigues