Wizz Air Hits Wall in Bid for Gatwick Growth
(Bloomberg) -- Wizz Air Holdings Plc has a chance to become a force across Europe, using its low-cost structure and financial clout to capture a bigger share of the market when the coronavirus finally lets up.
The Hungarian discount carrier has snapped up airport capacity in Italy, Germany, Norway and the U.K. during the pandemic, but the westward push has been slowed by measures meant to stabilize an industry hard hit by the outbreak.
Authorities in the U.K. and the European Union have extended a waiver of rules that force airlines to relinquish unused takeoff and landing slots -- shielding them from rivals targeting expansion at hubs like London Gatwick. Wizz Chief Executive Officer Jozsef Varadi argues that the measures are protectionist, and that airports starved for fees would welcome fresh tenants.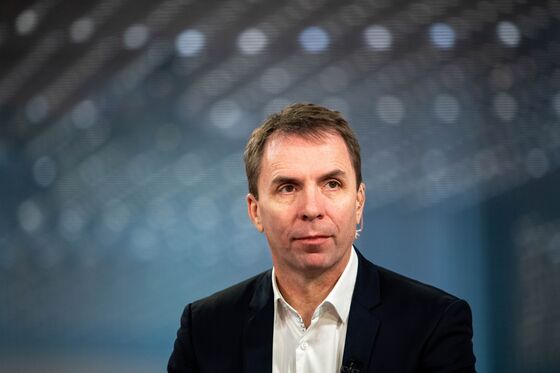 "Airports are firing people as a result of incumbent airlines stopping flights," Varadi said in an interview. "We could revive those airports but we're being blocked out."
Controlling more slots would help Wizz capture a bigger share of the travel rebound when it arrives. Varadi has modeled the company after Ireland's Ryanair Holdings Plc, Europe's biggest discount carrier. Both airlines have signaled that they'll keep taking plane deliveries and opening new bases in preparation for the upturn. In a market unlikely to return to 2019 levels for several years, any gains they make will come at the cost of others.
Wizz shares have gained 12% in the past year, the only positive performance on the Bloomberg EMEA Airlines Index. The stock traded 2.9% higher as of 8:41 a.m. in London.
Varadi has been particularly frustrated at Gatwick, where British Airways, Norwegian Air Shuttle ASA and Virgin Atlantic Airways Ltd. have gone into retreat. Wizz wants to base 20 planes at the hub south of London, where it would take on EasyJet Plc. So far it's only been able to place one. Wizz says it's also struggled to expand in France, Italy, the Netherlands, Portugal and Poland.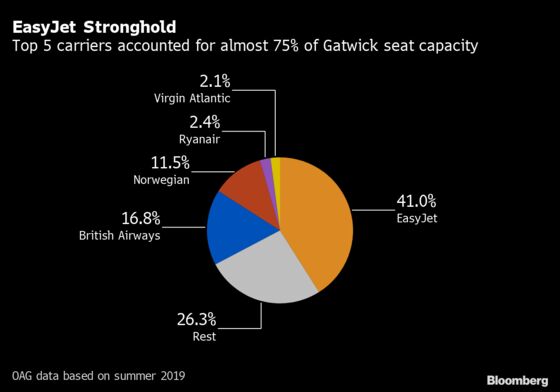 "I can see both sides," said John Strickland, who runs London advisory firm JLS Consulting. "On one hand, you have an airline that wants to grow in what is currently an almost empty airport. On the other, you have airlines that have invested time on building up the value of a portfolio of slots."
U.S. discount carrier JetBlue Airways Corp. has also sought to expand into Gatwick and London Heathrow to open up trans-Atlantic flights. Last month it complained to the U.S. Department of Transportation of "ongoing challenges" obtaining slots in the U.K., even as Richard Branson's Virgin Atlantic ceased operations at Gatwick and Norwegian Air exits the long-haul business based there.
In normal times, airlines must use at least 80% of their takeoff and landing slots at European airports or face losing them the following year, a requirement that has been suspended through winter. The EU is poised to reduce the threshold to 25% from March 28 until Oct. 30.
Slots can be returned to a pool, but as little as three weeks before the departure date, something Wizz says is incompatible with schedule planning.
The U.K. Department for Transport, which oversees U.K. airport allocations post-Brexit, has waived slot-retention rules altogether for the coming summer season.
"It's critical that we support the aviation sector so that carriers are able to immediately restart normal services when the pandemic allows," the DfT said in an email. The waivers also prevent "environmentally damaging ghost flights" taken to protect capacity, it said.
Gatwick, owned by France's Vinci SA, saw passenger traffic plummet 78% in 2020. Should travel rebound, the hub would seek a reinstatement of normal slot rules at summer's end, "incentivizing airlines to trade or hand back unused slots," Gatwick CEO Stewart Wingate said in an emailed statement.
EasyJet has added four jets at Gatwick, bringing its total to 71, using swaps and leases sourced from bankrupt Norwegian Air.
"There are slots available for airlines who want to grow," EasyJet said by email. It added that "airlines should not be put in a position where they need to fly flights empty" to hold onto slots.
Wizz, Europe's third-biggest discounter behind Ryanair and EasyJet, says it needs permanent airport rights to justify the investment at Gatwick, where it envisions employing 800 people.
The Budapest-based company, backed by Bill Franke's Indigo Partners, is adding planes and boosting its network of bases by more than 50%. Its cost advantage stems from lower wages in Central Europe, together with a fleet centered on the larger Airbus SE A321 narrow-body that lowers per-passenger costs.
Varadi has also cut capacity less and chased remaining traffic harder. The carrier operated 27% of usual seating in January, compared with 15% at Ryanair.
Both discounters, meanwhile, have both denounced billions of euros in state bailouts lavished on carriers such as Deutsche Lufthansa AG and Air France-KLM. At Paris-Orly airport, Air France is being pressed to give up space in exchange for additional aid, La Tribune reported Tuesday.
While they're aligned now, Wizz's ambitions are likely to bring it increasingly into the crosshairs of its larger rival.
Wizz will "continue to grow, I assume more in Central and Eastern Europe," Ryanair Chief Financial Officer Neil Sorahan said in an interview this week. "We've got a significantly lower cost base than them. They're a good competitor however. I think we will both do well over the next few years."