Hengda Seeks Delay; Yuzhou Property Unit Sale: Evergrande Update
(Bloomberg) -- China Evergrande Group's onshore unit is seeking to delay an option for investors to demand early repayment, while China Huarong Asset Management Co. plunged as it resumed trading following a $6.6 billion bailout, the type of state-orchestrated rescue that appears unlikely for Evergrande.
Hengda Real Estate will hold a meeting online with investors starting Friday as it tries to delay a Jan. 8 put option, it said in a statement to the Shenzhen stock exchange. Two developers meanwhile are delaying dividend payments to hoard cash.
Evergrande shares were little changed after the company was ordered to demolish 39 apartment buildings in Hainan province that authorities deemed illegal. The demolition is the latest move by local governments to seize some of Evergrande's prized land assets. Evergrande's 9.5% note maturing in 2024 slipped to about 13 cents on the dollar.
Evergrande Hainan Order Suggests Fire Sale Difficulties: React
Hard Landing in Property Market Would Crater China's Economy
Surging Yields Come at Convenient Time for Beijing: China Today
Worst Not Over Yet for China Junk Dollar Bonds: CreditSights
China City Offers up to 10,000 Yuan Subsidy for Home Purchases
Property developer Yuzhou Group Holdings unit seeks asset disposal (19:52 p.m. HK)
China Resources Mixc Lifestyle Services agreed to buy Yuzhou Property Services Co. from a unit of Yuzhou Group Holdings for as much as 1.06 billion yuan ($166 million), it says in an exchange filing. Final consideration will be determined with reference to final due diligence, debt and related liabilities of Yuzhou Property Services as well as final appraisal from independent and qualified valuer.
Chinese Builder Logan Group Makes Dollar Bond Payment (2:10 p.m. HK)
Chinese developer Logan has made a dollar-bond interest payment due Thursday, a company spokesperson said. The coupon on the 2026 note totals $7.05 million, according to data compiled by Bloomberg.
Chinese Developers Delay Dividends Amid Payment Pressure (11:20 a.m. HK)
Two Chinese real estate firms are delaying interim dividend payments by months, the latest step by companies in a sector facing mounting bills and limited fundraising options.
Zhongliang Holdings Group Co. and DaFa Properties Group Ltd. both said in Hong Kong stock exchange filings dated Tuesday that the payments were being pushed back to preserve cash.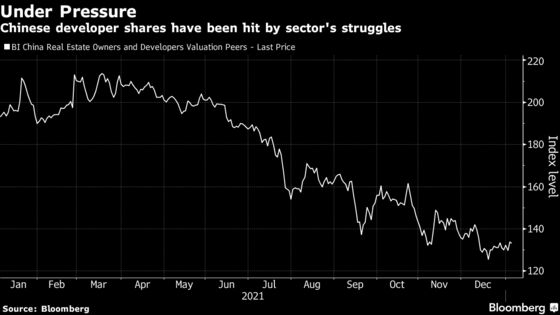 Condemned Towers on China's Hawaii Show New Threat (11:15 a.m. HK)
The wrecking ball headed for 39 apartment blocks on a tropical island at the southern tip of China poses the latest threat for Evergrande as local governments race to reclaim land ahead of a looming restructuring of the embattled developer.
The government of Danzhou, a city in the province of Hainan, has asked Evergrande to tear down what it says are illegal buildings within 10 days. The order was signed Dec. 30, meaning the company could start demolition work on the near-complete condos by Jan. 9. Evergrande has appealed the order, according to a media report.
The Hainan order is among the most extreme in a spate of government actions to seize Evergande's property and land holdings, underscoring risks to its most-prized assets as the firm prepares for what could be the largest restructuring ever in China. In recent months, at least 11 land parcels have been targeted for confiscation by local authorities for reasons ranging from idle projects to missing fee payments.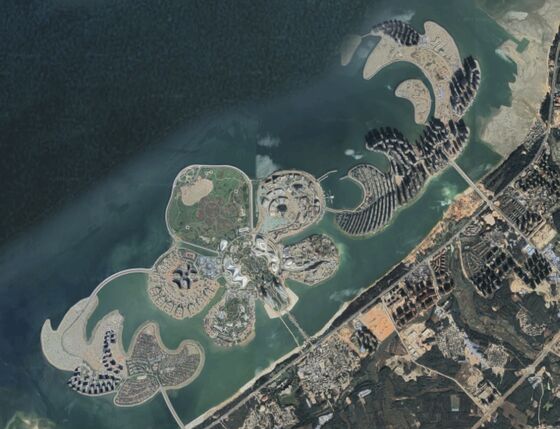 Evergrande Unit Proposes Delaying Yuan Bond Repayment (11:10 a.m. HK)
China Evergrande Group's onshore unit will hold a meeting for holders of one of its local yuan-denominated bonds, as it seeks to delay an option for investors to demand early repayment.
Hengda Real Estate will hold the meeting online Jan. 7-10, it said in a statement to the Shenzhen stock exchange. The bond concerned is its 4.5 billion yuan ($706 million) 6.98% security due 2023, which has a Jan. 8 put option. The company is proposing to change that option date as well as an interest payment also due that day this year to July 8.
The note will be suspended from trading from Jan. 6. Bondholders will review the company plan for the changes and the adjustment wouldn't trigger default, according to the statement. 
Huarong Resumes Trading After a $6.6 Billion Bailout (8:15 a.m. HK)
The state-controlled investors that were directed to bail out China Huarong Asset Management suffered a loss of more than $4 billion as the bad asset manager resumed trading after a nine-month suspension. 
Huarong slumped as much as 55% in Hong Kong as trading resumed after the firm last week completed a $6.6 billion state-orchestrated bailout. The tumble handed the group of state-backed investors, which had bought a total of 41.2 billion domestic and Hong Kong shares for 1.02 yuan apiece, a combined loss on paper of 26.4 billion yuan ($4.1 billion).
Citic Group, now Huarong's second-largest shareholder after the Ministry of Finance following the recapitalization, saw its investment slide about 12 billion yuan. China Insurance Rongxin Fund, the third-biggest holder, was hurt to the tune of 9.3 billion yuan. Nevertheless, representatives from both firms said at a press briefing Wednesday that they were optimistic about Huarong's prospects.