Hottest Company in Hungary Weighs Green Bonds to Fund Expansion
(Bloomberg) -- Waberer's International Nyrt., a Hungary-based road freight company, is weighing a green bond offering next year to help finance potential expansion into the Balkans and the construction of a new logistics hub.
The company is seeking a "dominant" role in central and southeast Europe, with "ample financing" available on the market, Chief Executive Officer Barna Erdelyi said in a video interview on Monday. Besides a central bank bond program, commercial lenders and state subsidies, a green bond sale is possible "next year at the earliest," he said.
Waberer's, whose trucks adorned with a giant yellow sun against a dark blue background are ubiquitous across Europe, is rebounding from three years of losses after new ownership cut debt and streamlined operations. The company had previously struggled to adapt to soaring wages, sharper competition and the pandemic hitting supply chains. The share price dropped to a record 562 forint in March 2020 from 5,100 at its 2017 public offering. 
The deep discount lured in new investors who ushered in a ownership structure. Indotek Group, a Hungarian company that has done business with the family of Premier Viktor Orban, became the largest shareholder in October. It now owns a 31% stake, while the company's founder Gyorgy Waberer returned by purchasing a 20% block of shares late through his holding company in 2020 along with local portfolio manager MHB Optimum Zrt. acquiring 21%.
After a market-beating 42% climb in August, shares of the 8th biggest company on the Budapest Stock Exchange by market capitalization are still undervalued, Erdelyi said. 
"I think the company is performing better than its share price indicates," he said. After cutting debt and improving profitability, the CEO is now focusing on investments and widening Waberer's regional spread.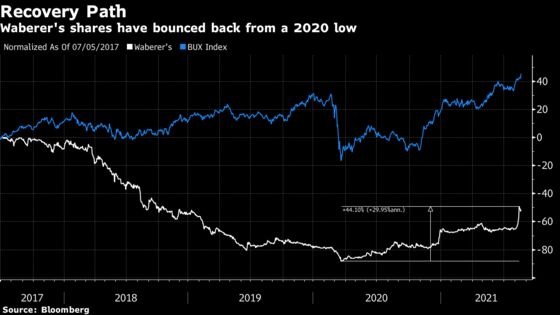 Net leverage ratio has dropped to 1.7 from a 2019 high at 5.7, according to the company's second-quarter earnings presentation. Erdelyi wants to keep the indicator at bay but also invest in projects such as building 50,000 square meters of warehouses in 2022-2023, potentially near Budapest and in regional hubs around the country.
To avoid losing environmentally conscious investors and clients, Waberer's seeks to decrease its carbon footprint by testing alternative fuels such as liquefied natural gas and hydrogen for transportation. The tests may bear fruit in two-three years, according to Erdelyi.