Home Depot Jumps as Sales Rise on Home-Improvement Demand
Home Depot Sales Gain Shows Americans Keep Fixing Up Houses
(Bloomberg) -- Home Depot Inc. surged the most since the early days of the pandemic after posting stronger-than-expected results, a sign that increased North American spending on home improvement continues to stretch through the pandemic. 
Comparable-store sales, a key metric for retailers, increased 6.1% in the third quarter, according to a statement released Tuesday. That's well above the 1.5% average estimate of analysts surveyed by Bloomberg.
The results show how some retailers are managing to overcome obstacles ranging from supply-chain logjams and a labor shortage to a stubborn bout of inflation. Walmart Inc. also reported earnings Tuesday that outpaced Wall Street's expectations.
The key for Home Depot has been remaining flexible at a time of extreme volatility across the retail sector. "Ultimately, this is what has allowed us to respond to the elevated home improvement demand that has persisted," Chief Executive Officer Craig Menear said in the statement. 
Home Depot shares rose as much as 6.3% in New York, the biggest intraday gain since April 2020. The stock was up 40% this year through Monday's close, outpacing the 25% gain of the S&P 500 index.
Home Depot's earnings last quarter were $3.92 a share, beating analysts' expectations. Revenue of $36.8 billion was above the consensus.
Part of the retailer's results are being fueled by the strength in U.S. housing market. In 2021, the housing market U.S. home prices have appreciated steadily, although that growth cooled off slightly in August. Rising home prices often fuel spending on improvement projects, buoying Home Depot's sales. 
Drew Reading, a homebuilding analyst with Bloomberg Intelligence, said that while Home Depot's transactions were lower, the 12.9% increase in average ticket is likely a reflection of robust demand among higher-spending professionals. The average ticket size rose even as customer transactions fell 5.5%.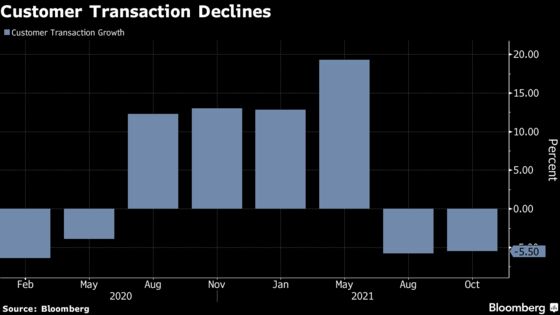 "The higher ticket also reflects inflation, highlighting the company's ability to pass costs through to consumers," Reading said. 
While the company is weathering the impact of higher costs, they could become a bigger hurdle.
"As the company moves solidly into the new year, things get a little tougher," Neil Saunders, managing director at GlobalData, said in a note. "We believe higher costs -- especially from heating and fuel -- will start to bite on consumer spending." 
Home Depot executives say they're confident about their ability to manage through the current environment. For now, consumers continue to shop. In October, both average ticket price and transaction price improved, Chief Financial Officer Richard McPhail said in an interview.  
"But we can't be certain how that will unfold over the short term," he said.