Hindalco's Novelis To Buy Aleris In $2.6 Billion Deal
Hindalco's U.S. subsidiary Novelis has agreed to buy Aleris International.
27 Jul 2018, 11:34 AM IST
In an effort to diversify its product portfolio and global footprint Hindalco Industries Ltd.'s U.S. subsidiary Novelis has agreed to buy U.S.-based aluminium producer Aleris Corporation.
Novelis signed a definitive agreement to acquire Aleris Corporation, a global supplier of rolled aluminum products, for about $2.6 billion including debt, Birla, chairman of the Aditya Birla Group, said at a press conference today. "This basically is broken up into $775 million of equity and the $1.8 billion balance being debt that Aleris has on its balance sheet already."
The acquisition will give Novelis capacity in high-end aerospace and automotive segments. It will acquire Aleris' 13 manufacturing facilities across North America, Asia and Europe. This marks Hindalco's second big overseas acquisition after the Kumar Mangalam Birla-promoted company first bought Novelis for $6 billion twelve years ago.
The combined entity will have pro forma revenue of about $15 billion and will operate 37 facilities with an employee base of 16,500 approximately, Novelis said in a statement.
The transaction is expected to be completed in nine to 15 months.
The acquisition is value accretive from the first year itself, both in terms of cash flows and net profit, which is rare for an acquisition as big as this.
Kumar Mangalam Birla, Chairman, Aditya Birla Group
Novelis will fund the buyout via debt, fully financed in its books. "The pro forma net-debt-to-adjusted Ebitda is forecast to peak below 4 at closing of the deal, and return to 3 in approximately two years," Birla said.
Novelis Current Gross Debt: $3.5 billion
Additional Debt Due To Acquisition: $2.6 billion
In 2017, Novelis' operating profit hit $201 million and it expects earnings to rise to $360 million in the two years after the buyout.
The company expects synergies worth $150 million on a recurring basis from the third year of the merged operations. Additionally, there will be an earn-out payment of $50 million, if earnings from North America exceed agreed levels in the 2018-20 period, Birla said without clarifying what those performance targets were.
"Acquiring Aleris is the right opportunity at the right time as they are set for transformational growth," Steve Fisher, president and chief executive of Novelis Inc., said in the statement. "The significant investments they've made in the high-demand, high-value aerospace and automotive segments have resulted in favorable long-term, global contracts."
Shares of Hindalco have been volatile amid concerns over the debt-funded deal. "In a situation like this, when news comes out partly, there's always some confusion, which typically would make the stock react the way it did," Birla said. "Once investors have complete information, once they realise that (acquisition) multiple we are talking about is only 7.2, given that the Ebitda will be $360 million the year which we take over the company (compared with $201 million in 2017), I believe the investors will view this as a very positive development."
Watch the press conference here: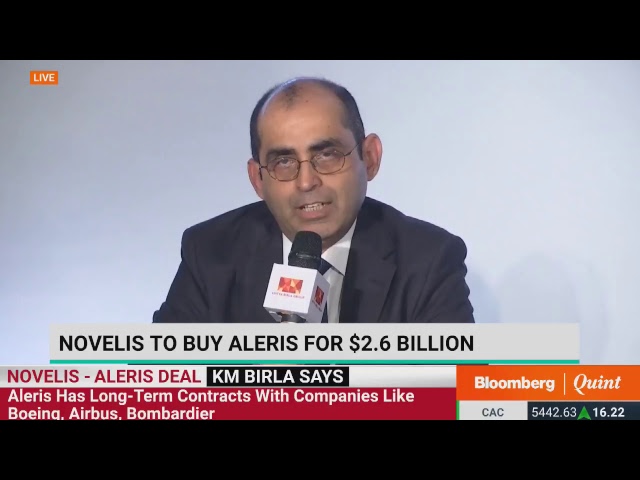 Here's what Novelis stands to gain from the deal:
Capacity Addition In No Time
Aleris recently commissioned its $425-million automotive body sheet unit in Kentucky and has already started shipping products from there. The expansion comes when U.S. President Donald Trump has imposed import tariffs on aluminium imports.
An acquisition would add 1 million tonnes to Novelis' 3.6-million-tonne downstream capacity where organic growth usually needs about five years of gestation, brokerage firm Macquarie said in a note.
According to JP Morgan, the ABS project in particular would allow Novelis to add capacity quickly and save 3 years that a greenfield project would take.
Geographic Benefit
A potential deal would help Novelis increase its presence the North America and Europe—the two biggest contributors to Aleris' revenue.
Product Mix
Aleris would increase the company's share in high-yielding automotive segment. And it also fits with Novelis' strategy of increasing its exposure to the auto sector.
Novelis derives most of its revenues from the beverage can segment, followed by auto body sheets. It's gradually moving away from specialty steel, according to a report by Goldman Sachs.
Get Your
Daily Newsletter
Get market moving news, top news & compelling perspectives
---