Here's Why Australia's U.S.-Beating Jobs Growth Is Falling Flat
(Bloomberg) -- Australia generated a million jobs in the past five years. The equivalent achievement in the U.S. would be about 14 million new jobs rather than the 12.6 million that have been created in America's hiring boom.
Yet as the Liberal-National government approaches five years in office, there's been zero political dividend. The problem -- as in much of the developed world -- is that those job gains have been underpinned by half a decade of virtually no real wage growth.
With little to show for the economy's resilience, Australian households have had to rack up debt and run down savings to maintain their living standards. This was evident in Wednesday's GDP data, which showed a better-than-expected 3.1 percent growth pace came partially on the back of savings being pushed down to their lowest level since 2007.
"The household sector remains under pressure," said Saul Eslake, an independent economist who has parsed Australian data for over three decades. There's a "disconnect between what the national accounts say about the economy as a whole, and what individuals perceive about their own circumstances."
Moreover, even as consumer-price inflation remains weak, it's been suppressed by discretionary goods like cars and televisions rather than day-to-day essentials such as electricity and childcare. In other words, inflation bumping along below the bottom of the central bank's target hasn't felt that way for many households saddled with rising bills.
The disconnect between resilient national data and stretched household budgets has ricocheted around the developed world and is manifesting itself politically: from a populist revival in continental Europe to Brexit to President Donald Trump's election. James Gorman, Morgan Stanley's chief executive officer, sought to explain it last week in an interview with Bloomberg Television.
"We have extraordinary global synchronized growth, everywhere from Japan through to the U.S. doing well. China doing very well, Southeast Asia, across continental Europe, good global synchronized growth here. Yet we've had these political eruptions," said Australian-born Gorman. "There is essentially in many countries around the world a sense that the average performance of the economies is much better than the individual performance of the citizens."
But North Atlantic nations suffered recession and high unemployment after the 2008 global financial crisis, helping explain the depth of their discontent, whereas Australia is about to record its 27th consecutive year of expansion. Has it simply had it too good for too long?
The following five charts highlight the economy's successes and failings over the past five years. Combined, they help explain why a job-generating conservative government that's presiding over 3.1 percent growth in an era of low inflation and record-low interest rates is unable to gain traction with voters.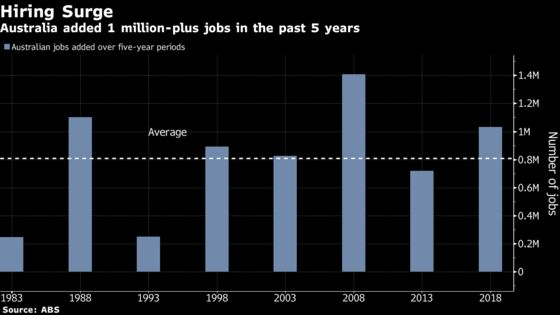 While Australia has a strong record of job generation on a five-year basis, the period to 2008 saw powerful domestic growth, the onset of China's massive resource demand and a hiring boom. Similarly, the period to 2013, while including the financial crisis, saw labor-intensive development and expansion of mines amid China's huge economic stimulus. In contrast, the five years to 2018 incorporated the end of the mining boom; it's a testament to the economy's flexibility that it still proved capable of generating so many jobs.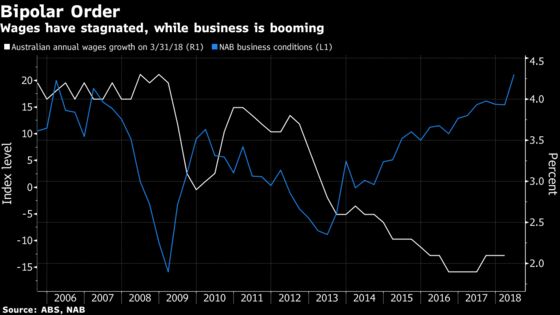 The crux of the dilemma: business is booming while wages are stagnating or even going backwards when adjusted for inflation. The sense of widening inequality has led voters outside Australia to seek solutions beyond their traditional political elites. Yet business would argue that in a hyper-competitive, globalized world it can't afford to pay more. Down Under, they could also make the case that the mining boom inflated wages and a period of stagnation is simply the economy adjusting to restore competitiveness.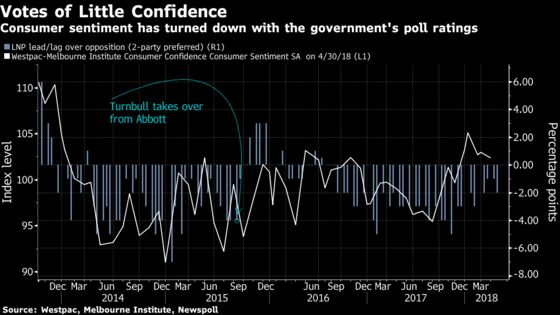 The connection between the government's political fortunes and consumer confidence is long-standing in Australia. After the leadership instability of the previous Labor government, voters opted for Tony Abbott and the promise of majority government. Yet his popularity quickly reversed and he was eventually replaced by Malcolm Turnbull, who briefly improved the government's fortunes and confidence. Turnbull couldn't conjure up wage increases or restore mining-era revenues -- and despite solid employment results, his government is trailing the opposition Labor Party in opinion polls.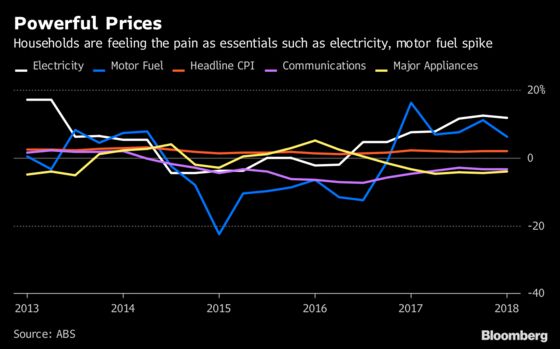 In a country where temperatures soar in summer and about three-quarters of households use air-conditioners, power prices are critical. While the 2014 decision to scrap Labor's carbon tax provided some relief, they have now resumed their inexorable rise. This is obscured in inflation data, where falling consumer-goods prices neutralize these rising costs. As a result, consumers are told conditions are better than lived experience shows.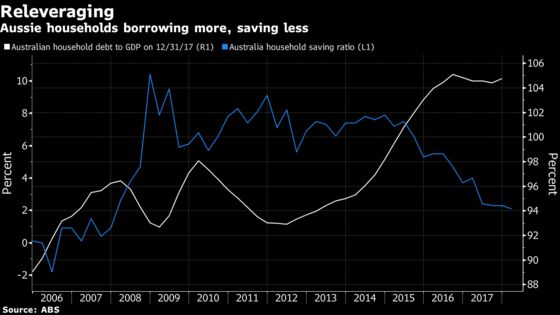 In the past five years, Australians racked up debt and cut saving. While that also occurred in the pre-crisis period, this was a reflection of confidence and rising asset prices. Today, however, households are simply compensating for a lack of income growth. Worse, while Australians traditionally borrowed to buy property and then watched inflation erode their debt, the lack of consumer-price growth means their current burden shows no sign of abating soon.
And therein lies the grumpy Aussie consumer and Turnbull's greatest challenge.
--With assistance from Kimberley Verschuur.
To contact the reporters on this story: Michael Heath in Sydney at mheath1@bloomberg.net;Garfield Reynolds in Sydney at greynolds1@bloomberg.net
To contact the editors responsible for this story: Nasreen Seria at nseria@bloomberg.net, ;Malcolm Scott at mscott23@bloomberg.net, Chris Bourke