Short Seller Spruce Point Says GFL Understates Debt; Stock Falls
Hedge Fund Spruce Point Calls Canada Waste Firm 'Uninvestable'
(Bloomberg) -- Shares of waste management company GFL Environmental Inc. fell as much as 12% after a New York hedge fund released a report questioning its accounting and its "aggressive and opaque business model."
The 107-page report by Spruce Point Capital Management LLC says the company requires injections of new capital and claims Chief Executive Officer Patrick Dovigi has "questionable" business connections. The allegations have not been proven.
Dovigi said the statements made by Spruce Point were "misleading" and contained factual errors, without specifying what they were. "The report contains numerous inaccuracies, which GFL believes are solely intended to benefit the author of the report who has disclosed that it stands to realize significant gains in the event that the stock price of GFL declines," he said in an e-mailed statement.
The Spruce Point report includes a disclaimer telling readers they should assume the firm and its affiliates have a short position in GFL.
"Spruce Point believes that without access to new capital, the Company's shares are worthless and likely uninvestable for institutional investors," the report states.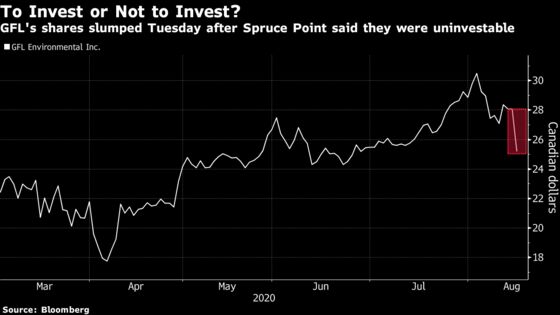 GFL, based in Vaughan, Ontario, went public on March 3, just as a stock market selloff sparked by Covid-19 was gaining momentum. Two previous attempts at IPOs had failed; among investor concerns were the company's large debt level and spending on acquisitions.
"We think GFL is just growing way too quickly," Ben Axler, Chief Investment Officer at Spruce Point, said in an interview with Bloomberg Television. "We think the DOJ needs to take a serious look at the viability and the surviability of this business and whether or not they're accurately presenting their financials."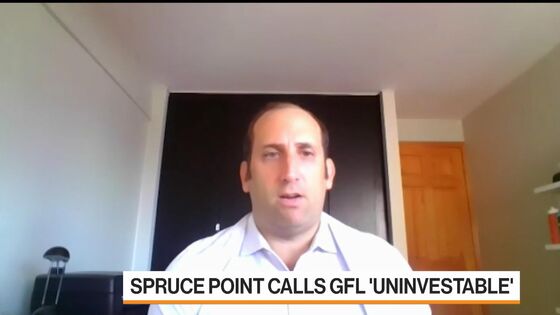 GFL shares were down 10.5% at 3:13 p.m. in Toronto, wiping out C$946 million ($719 million) in market value.
"Spruce Point's 'strong sell' recommendation may trigger increased scrutiny of GFL Environmental, given the waste business's high leverage and limited history as a public company," Scott Levine, an analyst with Bloomberg Intelligence, wrote. "The report alleges improper management and aggressive accounting, and suggests regulators may fail to approve over $2 billion in acquisitions announced since June," he added.
Spruce Point said GFL's use of "run rate Ebitda" in its IPO prospectus gives the company "significant discretion to inflate" the figure. Its total gross debt is "potentially misleading" as it doesn't include capital leases, loans to Dovigi and the debt portion of its tangible equity units issued in March.
The hedge fund said GFL has understated its debt by at least C$460 million ($350 million). GFL's total debt stood at C$5.29 billion at the end of the second quarter, according to data compiled by Bloomberg.
GFL announced a deal Aug. 12 to buy WCA Waste Corp. for $1.2 billion in a move that would expand its waste collection operations across 11 U.S. states, including Texas, Missouri and Florida. Having acquired 143 companies in over a decade, Spruce Point alleges that the waste hauler overpays for assets.
"Given that a meaningful portion of GFL's stock is pledged as collateral for loans, we contend there is a real risk that the stock may collapse and the company's auditor may not sign off on its financials after reviewing the evidence included in our report," the Spruce Point report states.