Hedge Fund Northlander is Raising Money to Bet on Carbon Price Surge
(Bloomberg) -- Northlander Commodity Advisors started a new fund to bet that carbon prices have nowhere to go but up.
The London-based hedge fund is looking to raise as much as $100 million for the new fund in the next 12 months, Ulf Ek, Northlander's chief investment officer, said in an interview. Within two years he hopes to grow the fund to $500 million.
Putting a cost on pollution is a key tool to help speed the shift from fossil fuels. The higher carbon prices go, the more expensive it becomes to burn coal and gas. At a certain level it makes more financial sense for a company to invest in an alternative than to pay for the right to pollute.
The Northlander Environmental Fund will mostly invest in the European market, the world's largest, though Ek hopes to add exposure to more carbon markets as they develop.
EU Carbon Will Tip Over 100 Euros by Start of the Next Decade
Investors are clamoring for places to invest that can help the environment and hedge their exposure to industries that will decline if governments take firmer action to limit climate change.
Ek sees the new fund as a way for investors to take direct climate action with their money. "If a fund is long only carbon emissions, it will be directly beneficial to the environment," he said.
The price of EU carbon emissions has already risen sharply, up more than 80% since the beginning of 2020, going over 45 euros ($54) per metric ton for the first time ever on Tuesday. Industry analysts expect that carbon will break above 100 euros a ton later this decade as the EU limits the supply of emissions permits.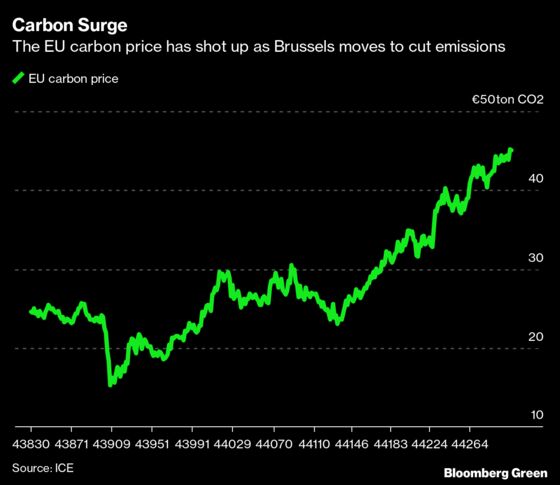 The rise has come earlier than many expected partially because of investors like Ek, who also uses his main fund to invest in the carbon market among a wider array of commodities. Financial investors have piled into the carbon market in the last year as the EU has increased its climate ambitions.
Over 10,000 industrial and power generating installations are covered by the EU system. The high price is already starting to show signs of stress for some of the bloc's biggest polluters.
Ek plans to raise the millions from family offices at first and hopefully later on from institutional investors. So far he's spoken mostly to European investors, but plans to travel to the U.S. later this year if travel restrictions allow, he said.