Greenland Voters Go Green in Rejecting Pro-Mining Government
(Bloomberg) -- Voters in Greenland ousted a government that wanted to attract foreign companies eager to tap the island's rare-earth metals.
The opposition Inuit Ataqatigiit (IA) took 36.6% of the votes for the 31-seat parliament in Tuesday's election. Siumut, the party of outgoing Prime Minister Kim Kielsen, won 29.4%, according to Danish state broadcaster DR.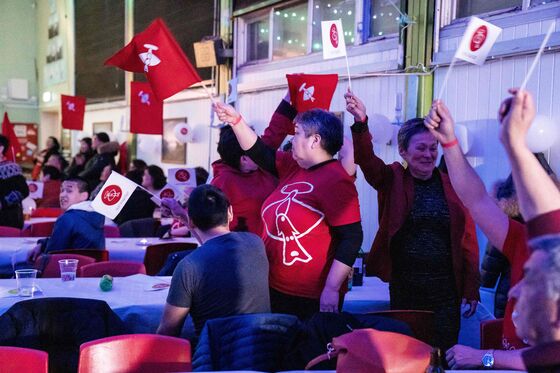 The vote hinged on environmental concerns against the need to attract investment and further the agenda of financial independence from Denmark. IA wants to shelve plans to allow a mining project at Kuannersuit near the southern tip of Greenland, which would be a blow for Chinese-backed Greenland Minerals.
"The project is controversial," said Javier Arnaut, an assistant professor of economics at the University of Greenland. "Greenland is in a dilemma, choosing between protecting the environment and economic diversification, and this time it looks like the environment is going to win."
IA, which now needs to build a coalition, campaigned on seeking greater autonomy from Denmark, which still oversees Greenland's foreign, defense and monetary policies. But its program has yet to offer a sustainable alternative to Danish economic support for its 56,000 inhabitants.
About two-thirds of Greenlanders are against letting the mining project go ahead, mainly because of concerns about the environment, according to a poll published in the Sermitsiaq AG newspaper on Monday. Some of the concern also stems from China's Shenghe Resources Holding Co. owning about a 10th of Greenland Minerals, an Australian company.
"That is a clear outcome of the vote, and especially in southern Greenland, where the project is located, people are opposed," Mute Bourup Egede, the head of IA, told DR. "It won't happen."
Egede, 34, is set to become the youngest premier in Greenland's history.
The mining project is located in an area thought to have one of the world's largest deposits of rare-earth minerals, which are increasingly regarded as a matter of national security because of their role in the production of high-tech products such as electric vehicles and semiconductors. Gaining access to such resources is one of the many geopolitical fights between the U.S. and China.
"Of course this idea of having China in your backyard creates uncertainty within the local population," Arnaut said. "But it should be a choice for Greenland, not a choice under Danish influence."
Denmark has shown its willingness to protect its interests. In 2018, the Nordic country said it would help fund the construction of two new airports in Greenland, a move that was designed to prevent a Chinese construction company from doing so and gaining a foothold on the island. Greenland grabbed international headlines in 2019 when former U.S. President Donald Trump floated the idea of buying the territory. Denmark rebuffed his approach.