Government Has More Fiscal Space Than Believed, Says JPMorgan's Sajjid Chinoy
There are more savings in the economy than we think, which can absorb a higher level of borrowings, says Chinoy.
The government may have more fiscal elbow room in the second half of the financial year than conventional wisdom suggests, according to Sajjid Chinoy, chief India economist at JPMorgan, who says he has a contrarian view on the issue.
The central government has raised close to Rs 7.4 lakh crore so far this year, which is over 60% of its revised borrowing target of Rs 12 lakh crore. Surplus liquidity and limited private credit demand has ensured that government bond auctions have remained well subscribed.
Conventional wisdom, however, suggests that the pool of household financial savings may not be enough to support expanded borrowing programmes by the centre and states. Together with a pick-up in private credit demand, the large borrowings could push up interest rates and lead to tighter financial conditions in the second half of the financial year.
Chinoy sees its slightly differently.
Think about the macros here. India is running a current account surplus... By construction, when you run a current account surplus, you have excess savings. That's compounded by strong capital flows. So we have the pool of savings. You're seeing this in strong deposit growth; banks don't want to lend to the real economy. There is a presumption here that those resources will ultimately be channelled into government bonds.
Sajjid Chinoy, Chief India Economist, JPMorgan
Chinoy highlighted that the government's borrowing programme in the first half of the year has gone through in a non-disruptive manner.
In the second half of the year, should the RBI give banks a signal that it will not let yields harden dramatically, banks may have the proclivity to still buy government bonds, he said.
I'm not saying that the RBI doesn't have to do much but I'm saying that, given the current account surplus, there are more savings in the economy than we think. So, India may be able to absorb a higher level of borrowing that most believe.
Sajjid Chinoy, Chief India Economist, JPMorgan
In addition, the government can choose to roll-over the treasury bills issued in the first half of the year.
The government has borrowed and issued close to Rs 5 lakh crore in treasury bills already. One way the government can finance more of its deficit is by rolling over those treasury bills. "Yes, there is rollover risk but in this environment you do whatever you can. You roll over those treasury bills and you only lengthen those maturities some time next year when the bond market settles down."
Eventually, the extent to which the government can allow its debt burden to build up during the pandemic will depend on the expected trend growth in the economy, Chinoy said.
In India, debt-to-GDP will go to about between 85 and 90%, according to Chinoy. The issue, however, is not so much the level, but the trajectory thereafter, he said.
If India's growth is at 7% over the next five years, India can absorb a much larger stimulus this year and still see, in the medium term, debt-to-GDP come down. If India's trend growth settles at 5%, even a muted fiscal response this year will result in debt to GDP rising monotonically. So we should not lose sight of the fact that trend growth matters a lot and the fiscal has to do whatever it has to do to protect trend growth.
Sajjid Chinoy, Chief India Economist, JPMorgan
In addition to borrowings, the government must also release funds through a multi-year asset sale programme, Chinoy said.
Watch the full conversation below: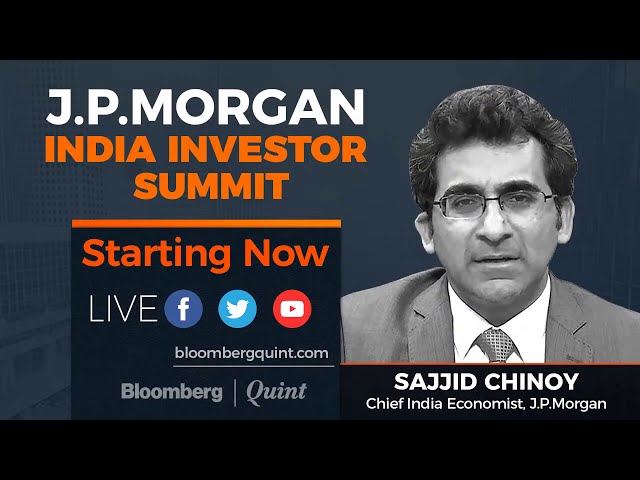 Where Will Growth Come From?
Chinoy, like others, sees a near double digit contraction in the Indian economy in FY21. JPMorgan's estimate is in the range of -9% contraction in the full year, he said.
A key question in the aftermath of the pandemic, is how the consumer economy will respond locally and globally. Could spenders turn savers? This depends on how long the pandemic lasts and whether consumers start to perceive it as a permanent shock, which will diminish their expectations of job security and income growth.
Households will increasingly perceive this to be as a permanent shock and that has a huge impact on behaviour. If this is perceived to be a temporary shock and you have confidence that life goes back to normal, then you will essentially just smooth consumption and dip into your savings. But if you believe that this is a permanent shock, then what households tend to do is increase savings and cut back on consumption.
Sajjid Chinoy, Chief India Economist, JPMorgan
Weaker consumption growth, coming against the backdrop of already subdued private growth and low capacity utilisation, in turn, will mean an extended slump in private investment .
Exports, which have driven investments in India in the past, too, are expected to remain choppy.
"If the outlook for exports is choppy and the outlook for consumption has diminished then don't expect a private investment pick-up in a hurry. So the question remains, what will drive growth over the next couple of yours if the private sector is deleveraging and taking time to recover," asks Chinoy.
The answer, he believes, lies in a large government public works programme.
I believe you need a large infrastructure push over the next 12 or 24 months because this will boost aggregate demand and catalyse private investment. Infrastructure is labour intensive so hopefully it will fill the vacuum created by the real estate sector and boost medium term growth. The question is how do you pay for it? Well, in my view, the obvious answer is you have an aggressive asset sales program over the next few years to pay for the infrastructure push so this is fiscally neutral.
Sajjid Chinoy, Chief India Economist, JPMorgan