Government Announces Merger Of Bank Of Baroda, Dena Bank And Vijaya Bank
The merger of Bank of Baroda, Dena Bank and Vijaya Bank will create India's third-largest lender.
18 Sep 2018, 11:08 AM IST
The Indian government on Monday announced the amalgamation of three public sector lenders -- Bank of Baroda, Dena Bank and Vijaya Bank. The announcement was made after a meeting of the 'alternative mechanism' set up last year to consider consolidation in the banking sector.
The proposal will now need to be passed by the boards of individual banks and share swap ratios arrived at.
The merger of these three lenders follows the merger of State Bank of India and its associate banks in 2017. That experience, according to Rajiv Kumar, secretary in the Department of Financial Services, has yielded good results. This prompted the government to take the next step in banking consolidation by deciding to merge three public sector lenders. The merger of Bank of Baroda, Vijaya Bank and Dena Bank will create a lender which will be the third largest in India, said Kumar.
Finance Minister Arun Jaitley added that the merger has been conceived in a way that the combined bank does not end up being weaker than the individual entities. There will be no adverse impact on employees and customers of the individual banks as a result of the proposed merger, said Jaitley.
In the first step of consolidation, we consolidated the subsidiaries of SBI with the parent bank to create a mega global bank. LIC, which has been keen to acquire a bank for some time, has made an offer for IDBI Bank because it suited their interests...We were waiting, before moving forward, for the situation to start turning. And therefore, now the alternative mechanism has gone ahead and taken this decision today.
Arun Jaitley, Finance Minister
What The New Bank Will Look Like
The combination of Bank of Baroda-Dena Bank-Vijaya Bank will create a lender with a nationwide reach. While Bank of Baroda already has a wide spread network, Dena Bank and Vijaya Bank are more regionally focused.
The merged bank will have an advances base of Rs 6.4 lakh crore
It will have a deposit base of Rs 8.41 lakh crore
In absolute terms, the gross non performing assets will be at roughly Rs 80,000 crore
That suggests that the gross NPA ratio will work out to be about 13 percent.
Of the three banks, Dena Bank is currently under the Prompt Corrective Action (PCA) framework and has been restrained from further lending. It has a gross NPA ratio of 22 percent - among the highest across the industry. Vijaya Bank, on the contrary, is among the better performing public sector banks with a gross NPA ratio of 6.9 percent. Bank of Baroda, the largest of the three, has a bad loan ratio of 12.4 percent.
For Bank of Baroda, the merger will mean a stronger presence in the western and southern regions, said PS Jayakumar, chief executive officer of the lender. He added that the process of completing the merger will take 4-6 months. "The combined entity will benefit from a higher CASA (current account savings account) ratio and a well-diversified loan book," said Jayakumar.
With the benefits of scale...a reasonable assumption is that there is good opportunity to grow but that is something that will happen over a period of time.
PS Jayakumar, CEO, Bank of Baroda
According to a former official at Vijaya Bank, the lender had approached the government to take over Dena Bank last year. Similarly Bank of Baroda had approached the government with a proposal to merge with Vijaya Bank, this person said while speaking on condition of anonymity. It seems the government took this decision after considering both proposals, said this official. The person added that merged entity will benefit from Bank of Baroda's high capital adequacy ratio and Vijaya Bank's strong asset quality position.
Another senior retired banker, who also spoke on condition of anonymity, said that each bank will face its own set of opportunities and challenges while dealing with the merger. Synergies will work well for Bank of Baroda and Vijaya Bank but Dena Bank will feel "vanquished" as part of the deal, said this official. Meanwhile, the fact that a weak bank like Dena Bank will be part of the merger means that some of its benefits will get diluted for Bank of Baroda and Vijaya Bank, this banker said.
Consolidation: One Step At A Time
It has been long felt that the Indian banking sector needs consolidation due to the large number of government banking entities. At present, there are 21 government owned banks. This number reduces to 19 post the merger.
Since most of these banks have similar business profiles, it has been felt that consolidation is justified. However, in the past, such a move has been strongly resisted by employees unions and governments have shied away from it.
In recent years, it has also been felt that distracting bank management with the formalities of a merger at a time when balancesheets need to be cleaned up would not be appropriate. However, with the bad loan recognition cycle now nearly complete, the focus is now on recovery and resolution.
"As a country we have been talking of consolidation for quite some time. But we have had other challenges like asset quality and inadequate capital so it was put on the back burner. SBI with its associates was the last big merger. So this is the next step," said Karthik Srinivasan, vice president at rating agency ICRA.
With the announcement on Monday, the government has also signaled that consolidation of public sector banks remains on its agenda. For now, it looks like the government is working on amalgamating banks with a presence across different parts of the country. However, in the past some thought has also been given to creating regional lending powerhouses.
The logic behind each individual merger is not clear. We are not sure what is the logic that will be used for other mergers if and when they get announced. But an important consideration would be to ensure that the merger doesn't lead to significant weakening of the combined entity.
Karthik Srinivasan, Vice President, ICRA.
Watch Finance Ministry's Complete Press Briefing Here: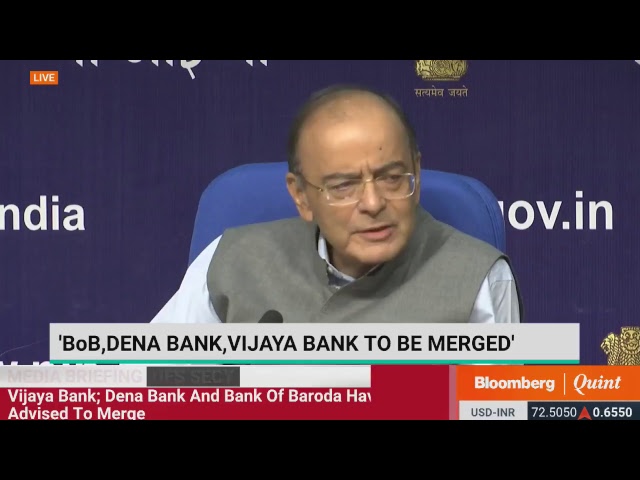 Get Your
Daily Newsletter
Get market moving news, top news & compelling perspectives
---