Goldman Names Four to Top Committee as Solomon Era Kicks Off
The memo was jointly signed by Solomon and outgoing chief Lloyd Blankfein.
(Bloomberg) -- Goldman Sachs Group Inc. almost doubled the number of women on its most senior governing body as incoming Chief Executive Officer David Solomon begins shaking up the leadership team.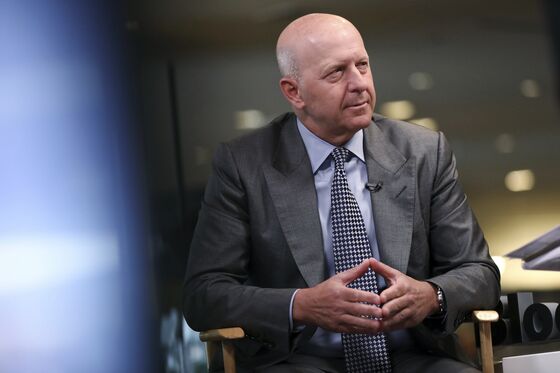 Strategy chief Stephanie Cohen joined the management committee along with Alison Mass, who leads the investment-banking division's financial and strategic investors group, Sheila Patel, head of the international asset-management business, and Chief Administrative Officer Laurence Stein, according to a memo to staff on Monday. The additions bring the committee to 33 members, including seven women.
Goldman Sachs last week identified David Solomon as its next chief executive, giving him a freer hand in carrying out leadership changes. His picks are being tracked by company insiders and outsiders to identify who's ascendant and who might find themselves out of favor in the new regime. The memo was jointly signed by Solomon and outgoing chief Lloyd Blankfein, who will step down as CEO at the end of September.
The firm has been public in its quest to achieve gender parity in its ranks and especially in elevating women at the senior level. The under-representation of women in top roles is a problem that afflicts almost all of Wall Street, and both Blankfein and Solomon vowed to seek measures to correct the imbalance in a message to staff earlier this year.
Cohen's induction into the group is noteworthy because she made partner just four years ago. But her rise has been rapid. She's chief strategy officer while also shepherding an initiative to invest client capital as well as the firm's own money to back female company founders.
Mass, who joined the partnership ranks in 2001, is responsible for most of the investment-banking group's important private equity and multinational clients. Patel heads the international operations of the asset-management unit, a division the bank is leaning on to help diversify its revenue.
Stein has served in various roles at the bank, including on its partnership committee, which will be identifying the next batch of partners later this year.
To contact the reporter on this story: Sridhar Natarajan in New York at snatarajan15@bloomberg.net
To contact the editors responsible for this story: Michael J. Moore at mmoore55@bloomberg.net, Steve Dickson