Goldman Energy Funds Suffer 'Material' Impact on Volatility
Goldman Deleverages Energy Funds on 'Unprecedented' Volatility
(Bloomberg) -- Goldman Sachs Group Inc. asset managers cut borrowing for two energy funds, which saw their top holdings fall by one-third in two days amid "unprecedented" volatility in commodity prices, resulting in a "material impact" on their net asset value.
The bank has decided to "effectively eliminate the net leverage" of its MLP Income Opportunities Fund and MLP and Energy Renaissance Fund, its asset management arm said in separate statements. The funds had combined assets of about $590 million at the end of January, mainly in master limited partnerships that operate U.S. oil and gas pipelines and terminals, according to the company's website. Leverage for the MLP Income fund was 39.21% and for the Energy Renaissance fund was 37.97% at that time, according to the website.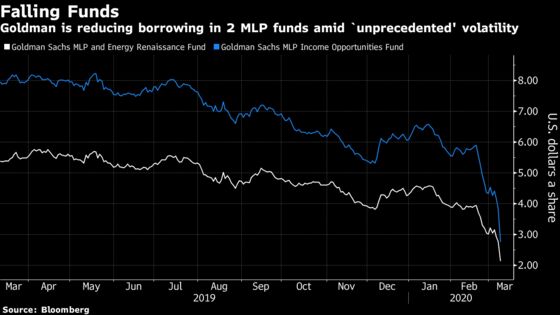 A gauge of oil market volatility in the U.S. on Monday rose to the highest level in records dating back to 2007 as crude prices crashed amid the dissolution of the OPEC-Russia alliance and the spread of the coronavirus. Energy Transfer LP, the top holding in both funds, has fallen 34% since Thursday, while the second-largest holding, Targa Resources Corp., was down 60%.
Goldman's funds "incurred significant interest rate breakage costs" by terminating fixed rate borrowings, it said in the statements. "The recent market volatility coupled with the effective elimination of leverage has resulted in a material impact to the Fund's net asset value," it said, without elaborating on the scale.
MLPs were once the darlings of the energy investment world, benefiting from U.S. regulation that allowed them to avoid paying corporate taxes and instead pass on cash to shareholders, who were then levied on the quarterly payouts. They received the tax designation because they owned energy infrastructure like pipelines and terminals, which were in high demand as the shale boom boosted oil and gas production and the need to move it to markets.
That tax policy changed in 2018, and now the companies face heightened fears that the crude price crash will slow oil and gas production and leave them with less money to pay down debt and fund their lucrative distributions.
To contact the reporter on this story: Dan Murtaugh in Singapore at dmurtaugh@bloomberg.net
To contact the editors responsible for this story: Ramsey Al-Rikabi at ralrikabi@bloomberg.net, Rob Verdonck