Gold and Wheat Drop as Russia Says It's Pulling Some Troops Back
(Bloomberg) -- Gold dropped the most in more than two weeks and wheat slid after Russia announced a partial pullback of its troops massed near the Ukrainian border. Most industrial metals held gains.
Western officials cautiously welcomed the move, but said they needed to see evidence the withdrawal was actually taking place. The Kremlin has consistently denied it plans an attack, but President Vladimir Putin stopped short of ruling out further escalation if Russia's security demands aren't addressed.
Russia's status as a raw-material exporting heavyweight has roiled markets from wheat to palladium in recent weeks as traders braced for a potential disruption to exports. The geopolitical tensions came against a backdrop of dwindling stockpiles and constrained supply that's spurred rallies in many commodities this year. 
Bullion fell as much as 1.4% on Tuesday, slumping with other haven assets. Gold's traditional role as a hedge against geopolitical stress had pushed it toward $1,900 an ounce. Gold traders are also assessing inflationary pressures and the pace and timing of the Federal Reserve's withdrawal of monetary tightening.  The U.S. producer price index jumped in January by more than forecast as companies contend with supply-chain and labor constraints.
"Optimism that Russia could pullback some troops was the primary domino that sent gold lower," said Ed Moya, senior market analyst at Oanda. A report showing prices paid to U.S. producers jumped in January by more than forecast also weighed on bullion as it supported the argument for the Fed to take bolder action with its first rate hike, according to Moya.   
Spot gold fell 0.8% to $1,855.78 an ounce as of 3:22 p.m. in New York, after earlier touching its highest intraday level since June 11. Bullion for April delivery slipped 0.7% to settle at $1,856.20 on the Comex. Silver and platinum also declined. Palladium -- with Russia as the top exporter -- slumped as much as 7.5%.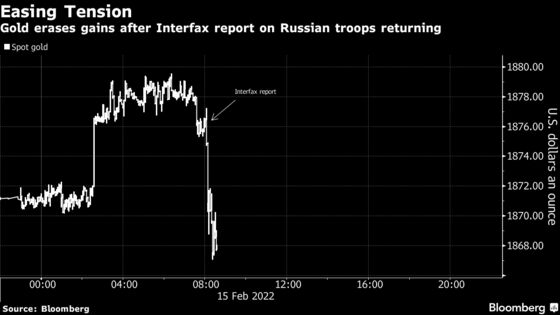 Corn futures in Chicago dropped 2.7%, the most since July, after Russia's announcement on troops helped to soothe concerns about potential disruptions for Black Sea grain shipments. Ukraine is the world's fourth-largest corn exporter. Wheat declined 2.5%. Ukraine and Russia account for a quarter of the wheat global trade. Soybean futures followed, slipping for a second day.
On soft commodities, arabica coffee snapped a three-day slump, drawing support from a continued slide in exchange-monitored stockpiles spurred by supply-chain disruptions. Sugar and cocoa fell.
Meanwhile price moves key base metals supplied by Russia, including aluminum and nickel, were relatively small. While both metals have been driven higher in recent weeks as tensions built, traders may be more focused on wider supply constraints that have shrunk stockpiles to multiyear lows. Inventories of both aluminum and nickel fell on the London Metal Exchange on Tuesday.
"Fundamentals for both are strong and even without tensions," said Geordie Wilkes, head of research at Sucden Financial Ltd. "We see upside to both."
Related news and coverage:
Goldman Says Commodities Are Its Top Asset Pick as Equities Lag