Gold Claws Back Some Ground After Early Morning Flash Crash
(Bloomberg) -- Gold recouped most of its losses from a sharp plunge at the start of Asian trading, but remains under pressure as bets mount that the Federal Reserve may soon start paring back its massive monetary stimulus.
Spot bullion fell more than 4% early Monday, dropping $60 in minutes, as the selloff following Friday's better-than-expected employment data accelerated at the start of trading. Gold likely crashed lower after breaching a technical support level and triggering stop losses, on a day when liquidity was low due to holidays in Japan and Singapore, said Marcus Garvey, head of metals strategy at Macquarie Group Ltd.
While prices bounced back from the initial drop, gold is still under strain. A close at current levels would be the lowest since April after the strong jobs numbers from the U.S. last week helped break the metal out of a weeks-long trading range around $1,800 an ounce. Inflation-adjusted Treasury yields spiked on Friday's data, putting pressure on non-interest bearing gold.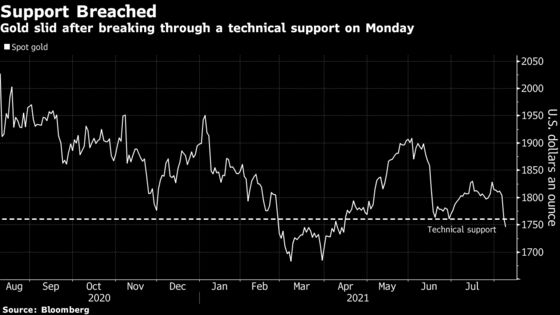 The recent slump highlights a worsening outlook for the bullion on fears that the strong rebound in the U.S. labor market could see the Fed pull back stimulus sooner than expected. Dallas Fed President Robert Kaplan's said that the central bank should start tapering asset purchases sooner rather than later.
Bullion was down 1% at $1,745.31 an ounce by 12:20 p.m. in London, after earlier touching the lowest since March, and coming close to its lowest in more than a year. In the futures market, over 3,000 contracts changed hands in a one-minute window -- equivalent to over $500 million notional value -- as activity surged in a typically quiet trading period.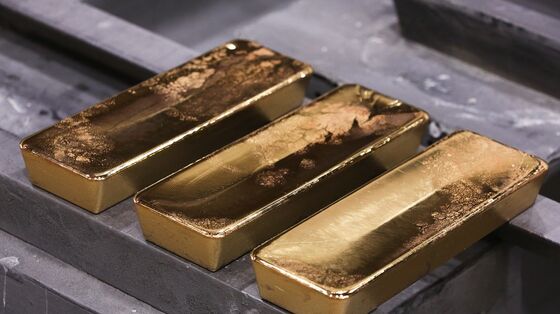 Gold "recovered in the course of trading as bargain hunters took advantage of the low price to enter the market," said Falkmar Butgereit, a senior trader at refiner Heraeus Metals Germany GmbH & Co. KG. Still, "many investors now fear that the Fed will soon start tapering bond purchases, raising expectations of interest rate hikes in 2022/2023."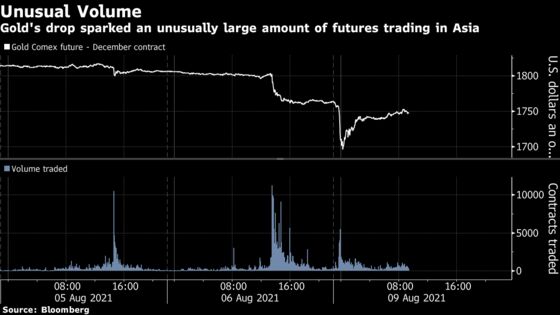 Attention will turn to fresh economic data later this week to gauge the health of the recovery from coronavirus, as well as inflation. The consumer price index due Wednesday is expected to show a smaller increase than the previous month as pressures on supply chains caused by reopenings ease. That may lend support to the view held by the Fed that inflationary pressures will prove transitory.
Also key to the outlook is the rise of the delta variant in the U.S., which could complicate the country's economic rebound. New Covid-19 cases have jumped to more than 100,000 a day on average, returning to the levels of the winter surge six months ago.
In other markets, silver lost 1.5% after earlier touching the lowest since December. Platinum and palladium declined. The Bloomberg Dollar Spot Index was little changed, after gaining the most in almost a month on Friday.