Germany's Next Finance Minister Says Inflation Needs Monitoring
Germany's incoming finance minister said the recent spike in inflation needs to be closely monitored, while predicting a "normalization" of prices next year.
Free Democrat Chairman Christian Lindner, who is due to be sworn in next week in a government led by Olaf Scholz, blamed rising consumer costs on the pandemic and supply-chain disruption.
"What we really must avoid is a spiral in which price gains lead to wage increases, which would be difficult to break," Lindner said in an interview with Bild TV. He expressed gratitude to labor union Verdi for this week agreeing to what he called a "moderate" salary hike of 2.8% for some 1.1 million public-sector workers in Germany's 16 regions.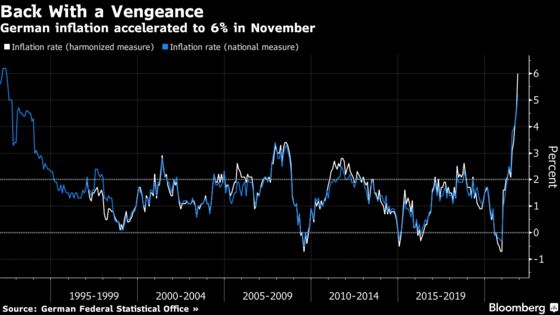 "The state should not be pushing prices up but working to ease the burden," he added, citing the incoming coalition's pledge from 2023 to scrap a levy to finance renewable energy.
German citizens are especially sensitive to rising prices due to the country's experiences with hyperinflation in the early 20th century, and Scholz spoke this week of the need to monitor inflation and take action if needed.
Lindner spoke on the video platform of the country's national tabloid, Bild, which has shown alarm at spiking consumer prices. This week it published another article on the matter, leveling criticism at Isabel Schnabel, the German member of the European Central Bank's Executive Board.
Hours before the latest German data on Monday showed inflation in November at 6%, she appeared on national television to reassure her fellow citizens that price pressures won't run out of control.