U.K. Relaxes Antitrust Rules, May Bring in Army to Boost Fuel Supplies
(Bloomberg) -- Prime Minister Boris Johnson is ready to bring in Army drivers if needed to fix a supply chain crisis that threatens to engulf his U.K. government, amid scenes of panic-buying and gas stations running dry.
A truck driver shortage that was exacerbated by Brexit and driven to crisis point by the pandemic has raised the prospect of disruption to food and fuel deliveries for weeks to come. Pressure is building on Johnson to fix a problem critics say is at least partly borne in his attitude to leaving the European Union.
The prime minister has already been forced into a U-turn, granting temporary visas for truck drivers and poultry workers -- an acknowledgment that despite his plan to remake the U.K. economy outside of EU rules, the current crisis means it still needs the bloc's labor pool to function.
Then Sunday, the government said it would suspend competition rules -- a rare step it keeps for civil emergencies and last used during the pandemic -- to allow companies to coordinate fuel supplies to the most affected regions.
The situation became critical in a matter of days. While some countries across Europe are contending with soaring energy prices and pockets of labor shortages, the U.K. is facing a particularly taxing winter as it recovers from the pandemic. Recent weeks have seen hospitals struggling with a backlog of patients, empty supermarket shelves and now lines at gasoline stations.
It didn't help that the government's underplayed concerns but also made public pleas not to panic, which had the opposite effect on people. There is the added complication that it's going to be hard to convince drivers outside of the country to come help, even if you offer them visa. 
A lot of goodwill was burned in the divorce from the EU. That point was driven home by the likely next leader of Germany, Olaf Scholz, who made the pointed observation that the U.K. brought some of this onto itself.
With little sign of the problem abating, there are growing calls to bring in Army drivers. Ministers, who are due to meet later Monday, have discussed starting Operation Escalin, a contingency plan that would mobilize hundreds of troops to drive fuel tankers, a person familiar with the matter said.
There is precedent, including in 2000 under former Labour Prime Minister Tony Blair. Johnson's government has already called in Army examiners to help ramp up the availability of truck-driving tests.
But it's also a political gamble for Johnson, who must balance the need to sort the supply chain issue quickly with the risk that deploying the military may create a sense his government has lost control -- and incite further panic.
For now, the government is waiting to see if measures taken so far will address the problem coupled with easing public anxiety, according to another person familiar with the matter. The government's current expectation is that Army drivers won't be needed, the person said.
What is U.K. competition law and how will relaxing it help?
Here is the statement from Business Secretary Kwasi Kwarteng, "to temporarily exempt industry from the Competition Act 1998 for the purpose of sharing information and optimizing supply."
Antitrust legislation is meant to protect consumers and make sure companies are not using unfair practices to fix prices.
Relaxing the rules lets companies coordinate on where to direct deliveries. During the pandemic, the government stepped in to stop price distortions at supermarkets -- but not for fuel.
Meanwhile businesses and opposition politicians said the government's announcement of 5,000 new visas for haulers until Christmas would barely scratch the surface of a 100,000 shortfall that's been exacerbated since the U.K. left the European Union.
Ruby McGregor-Smith, president of the British Chambers of Commerce, likened the visas to "throwing a thimble of water on a bonfire."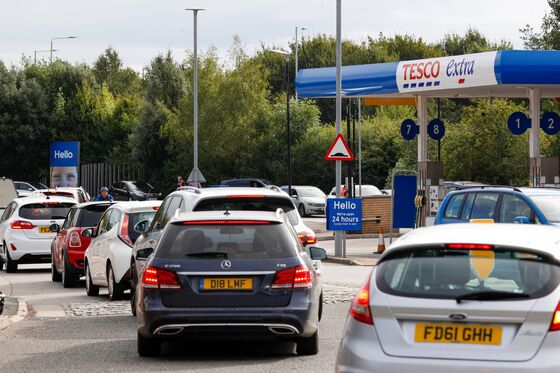 Rachel Reeves, the opposition Labour Party's finance spokeswoman, blamed the crisis on a failure to plan for Brexit or the pandemic.
"This government is incompetent, in denial, careless and chaotic," she told the party's conference in Brighton. "They are responsible for all this mess."
The Unison labor union, which represents public sector workers, called for the government to designate gas stations for the exclusive use of key workers, as it warned essential staff including ambulance crew may be left stranded.
With growing focus on the role of Brexit, the government has pushed back in recent days, insisting that the labor shortage could be fixed if companies improve conditions in the haulage industry.
That goes to the heart of one of Johnson's key arguments for Brexit, that the U.K.'s long-term reliance on foreign workers dragged down domestic wages and discouraged recruitment and training.
Yet his government's plight has not gone unnoticed in Europe. At a news conference on Monday, the man tipped to he the next chancellor of Germany, Olaf Scholz, appeared to enjoy reminding Johnson of the root of his troubles.
"We worked very hard to convince the British not to leave the union," he said. "Now they decided different and I hope they will manage the problems coming from that."