Frankfurt Airport's 45% Traffic Drop Reveals Extent of Virus Hit
Frankfurt Airport's 45% Traffic Drop Reveals Extent of Virus Hit
Frankfurt airport said passenger numbers are declining exponentially, almost halving in recent days, in a stark illustration of the devastation the coronavirus is wreaking on the global travel market.
The tally slumped 30% last week from a year earlier, double the drop seen toward the end of February, Fraport AG, which runs Europe's fourth-busiest air hub, said in an earnings statement Friday.
The slide has accelerated to 45% in past days and the airport is preparing for a 60% decline, Chief Executive Officer Stefan Schulte added in a briefing.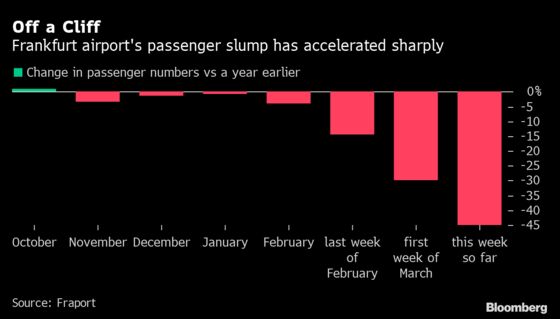 The German numbers provide an unique insight into just how far demand has dropped at major airports since the virus began to ravage Europe. Most other operators have only published data for February and aren't scheduled to give a further update until next month.
While airports worldwide are taking a hit from the virus, Frankfurt is especially exposed because its home carrier Deutsche Lufthansa AG bet big on Italy, which has the most cases of any European country, and is also a major player on routes to China, where the disease originated, and the U.S., which will enforce trans-Atlantic travel restrictions shortly.
Uncertainty about the duration and impact of the pandemic means it's not currently possible to provide a reliable business outlook for 2020 beyond saying profit will "decline significantly," Fraport said. The stock traded 2.8% lower as of 11:14 a.m., taking the decline this year to 50%.
To contact the reporter on this story: Richard Weiss in Frankfurt at rweiss5@bloomberg.net
To contact the editors responsible for this story: Daniel Schaefer at dschaefer36@bloomberg.net, ;Anthony Palazzo at apalazzo@bloomberg.net, Christopher Jasper, Tara Patel