Ford Updates Its Cash-Cow Lincoln Navigator,  But Skips Electric Power
Ford Updates Its Cash-Cow Lincoln Navigator,  But Skips Electric Power
(Bloomberg) -- Ford Motor Co.'s Lincoln luxury division is updating the cash-cow Navigator SUV with hands-free driving technology and refreshing the styling. But the automaker isn't adding a feature it has been touting lately -- electric power.
With new competition coming from the revived Jeep Grand Wagoneer, Lincoln is giving its flagship vehicle a reboot, adding creature comforts like second-row seats that provide massages, a sleeker grill and high-tech headlights that follow the road.
"It's a little surprising that they're not adding a hybrid version, especially after their big electrification announcement," Jeff Schuster, senior vice president of forecasting at researcher LMC Automotive, said in an interview. "This is Lincoln's largest vehicle with the lowest fuel economy of the group, so adding a hybrid would have been much more impactful."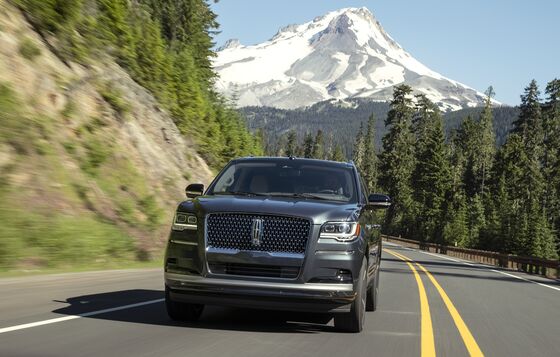 Ford Chief Executive Officer Jim Farley is boosting the automaker's spending on electrification by 36% to $30 billion through 2025, and has rolled out well-received plug-ins such as the Mustang Mach-E and F-150 Lightning. His May announcement was followed a month later by Lincoln President Joy Falotico promising to electrify "our anchor products."
Ford was little changed at $13.03 at 10:01 a.m. Wednesday in New York. The shares were up 48% this year through Tuesday while the S&P 500 climbed 18%. 
Luxury autos, led by Tesla Inc., are electrifying much faster than the mass market, with nearly one-in-five premium models a plug-in, compared with just 2% of the mainstream market. General Motors Co.'s Cadillac moved up the start of production of its Lyriq electric SUV by almost a year to early 2022. And BMW just launched its iX xDrive50 crossover in the U.S.
Lincoln will roll out its first all-electric model next year, with a total of four coming off a new EV platform in the next few years, Falotico said. The Navigator, for now, will continue to be powered by a traditional internal combustion engine.
"We continue to see our clients love the power and performance of the Navigator as it is today," Michael Sprague, director of Lincoln's North American operations, said in an interview. "We are in this transition period, and we are seeing in the luxury space a higher adoption of electrified vehicles. So we continue to monitor that."
The Navigator is Lincoln's most profitable product, with an average selling price of $91,983. The SUV's buyers have an average household income of $285,000 and are among Lincoln's youngest with an average age of 52, the company said. Sales of the model have risen 33% this year through July to 10,226.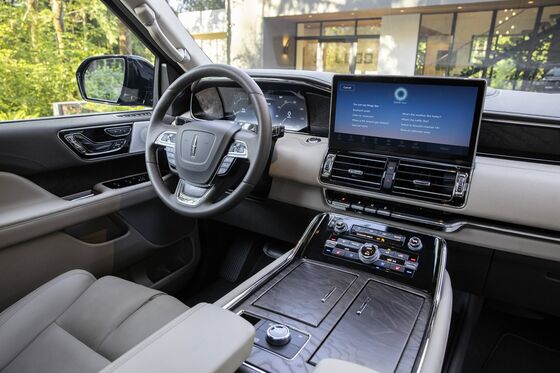 Lincoln is adding two high-end "Black Label" trim packages, one with a Central Park theme that includes the Manhattan skyline perforated into the leather seats, and another dubbed "Invitation," with geometric etched open-pore Khaya wood "designed to put clients in a calm, relaxed mood," Lincoln said.
"Our clients choose the well-appointed models," Sprague said. "They love the luxuriousness of it, particularly that sanctuary-like interior."
Ford loves the profit the Navigator generates. It helps pay for the company's electric future.
"From a contribution to the EV revolution that is on the way and the need for funds to invest in that future, the Navigator is very important to Ford," Schuster said. "It's paying the bills."