China Fines Meituan $530 Million in End to Antitrust Probe
(Bloomberg) -- China levied a $533 million fine on Meituan for violating anti-monopoly regulations, ending a months-long probe that had weighed on the country's food-delivery leader.
The State Administration for Market Regulation imposed a 3.44 billion yuan fine on Meituan, amounting to 3% of its 2020 domestic revenue, according to a statement Friday. The company will also have to return 1.29 billion yuan of deposits stemming from exclusivity arrangements. Billionaire Wang Xing's firm was told to improve its commissions mechanism, ensure the legal rights of restaurant partners and step up protections for its delivery riders. 
Investors are likely to regard the sanctions as letting Meituan off lightly, given Beijing's intensifying scrutiny over the millions of blue-collar workers that power the gig economy. The government has ordered firms like Didi Global Inc. and Meituan to rectify businesses that in some cases operate in legal gray zones, hiring unlicensed drivers for instance. Some analysts had anticipated fines for Meituan in excess of $700 million.  
This "is a good outcome," Sanford C. Bernstein analysts wrote in response to the announcement. Meituan's American depositary receipts were up 1.5% Friday morning in New York.
The lower-than-expected penalty "should ease market concerns on its monopoly position amid mainland China's 'common prosperity' push," said Catherine Lim, an analyst at Bloomberg Intelligence. "The fine could be funded by Meituan's annual operating cash flow of at least $1 billion this year."
Meituan said in a statement it sincerely accepted the penalty and will resolutely implement the regulators' instructions as well as ensure fair competition. 
The antitrust watchdog had announced an investigation into company in April, weeks after slapping a record $2.8 billion fine on Alibaba Group Holding Ltd. for abusing its market dominance. Investors had reacted then by driving up the e-commerce behemoth's shares more than 6% in Hong Kong on the first trading day after that penalty. 
Since then, the tech crackdown has extended to other aspects of the vast digital industry industry, including a sweeping clampdown on online education and the launch of a cybersecurity investigation into Didi Global Inc. days after the firm's blockbuster U.S. listing. In July, authorities ordered China's online food platforms -- of which Meituan is the largest -- to ensure workers earn at least the local minimum wage.
Xi Jinping declared his intention in March to go after "platform" companies that amass data to create monopolies, keen to exert control over a valuable asset deemed critical for the economy and stability. His administration is also moving swiftly to ensure the country's sharing-economy behemoths improve the welfare of the millions of low-wage workers they depend on to power growth. That stems from Xi Jinping's "common prosperity" campaign to get the private sector to share the enormous wealth accumulated during a decade-long internet boom. 
Meituan has lost roughly 40% of its value since reaching a peak in February. Founded by 42-year-old billionaire Wang, the company has long been criticized by rivals and merchants for alleged excesses like forced exclusive arrangements.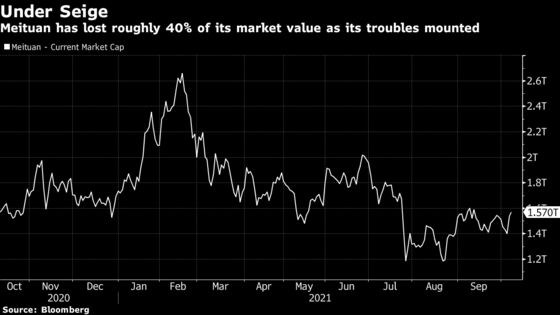 Meituan has been grappling with regulatory and public scrutiny on multiple fronts this year, a backlash that peaked when Wang posted a millennium-old poem regarded by many as implicit criticism of the government. The firm, which competes against Alibaba's Ele.me in food delivery, had previously been found guilty of unfair competition in at least two legal cases this year and ordered to pay compensation, local media has reported. 
The corporation had also rejected allegations that it charged onerous commissions to restaurants during the Covid-19 outbreak last year. It was among a handful of operators fined by the antitrust watchdog in March for giving improper subsidies to expand in the red-hot arena of community e-commerce. The Shanghai Consumer Council criticized Meituan in May for practices that hurt consumers' rights, including problems with refunds and misleading content on its mobile app.
Alongside Ele.me, Meituan faced an online backlash after several delivery riders were killed or injured while trying to meet strict deadlines. Rules announced in July required food delivery platforms to improve workers' working conditions, including optimizing routes, setting reasonable delivery times and enabling the drivers to participate in social security. Even before the new guidelines, executives have outlined plans to work with regulators and improve compliance standards, as well as provide insurance for millions of its delivery drivers.
To align with Xi's vision of "common prosperity," Wang has given away $2.3 billion in shares in Meituan and the company itself has also pledged to give back to society. During the most-recent earnings call, executives outlined efforts to set up programs to help delivery drivers, promising to pay closer attention to their welfare and needs.