Fed Will Drive RBI's Rate Decisions, Says CLSA's Indranil Sen Gupta
India's GDP growth will likely slow down to 6.8% this year and to 5.2% next year, says CLSA's Indranil Sen Gupta
The U.S. inflation rate and the Federal Reserve's decision are among the key factors that India's Monetary Policy Committee will consider during its policy meeting in December, according to Indranil Sen Gupta of CLSA.
The MPC has been focusing on growth alongside its mandate of managing domestic inflation, however, there are two key challenges it is battling, Sen Gupta, who is India economist and head of research, told BQ Prime, on the sidelines of CLSA's 25th annual CITIC India forum.
"...one is obviously the pressure of inflation in India, which is more or less covered as the RBI goes to 6% repo rate," he said. "The other is US inflation, which is pushing up the Fed, so the RBI has to react to that as well."
"There is no point in trying to let the rupee depreciate and invite imported inflation," Sen Gupta said.
If the Federal Reserve raises interest rates to 5.25%, India's MPC will need to raise the repo rate to at least 6.75%, he said.
"The point that I will make is that now it is the Fed that will drive the decisions of all emerging markets central banks," Sen Gupta said.
In the upcoming meet in December, the MPC is likely to raise the benchmark repo rate by 35 basis points, from 5.9% currently, he said.
While the latest consumer price inflation print of 6.77% for October was encouraging, the persistently high core inflation figure is likely to be a problem for the RBI to battle.
"We see inflation going down to 6.3% by March and 5.5% next year, which is back to the RBI's target range of 2-6%...I think core inflation has to come off for us to declare the all-clear over inflation," Sen Gupta said.
With uncertain macroeconomic conditions globally, India's growth is likely to suffer in the coming quarters.
"Our CLSA activity index has come down to 6% handle from 13%, which is to be expected given that the base effects are fading," he said. "We are looking at a growth of 6.8% for the full year, so obviously the next two or three quarters are going to be relatively weaker," the economist said, adding that a recession in the US and Europe will likely lead to India's gross domestic product growth easing to 5.2% in the next fiscal.
Watch the full conversation here: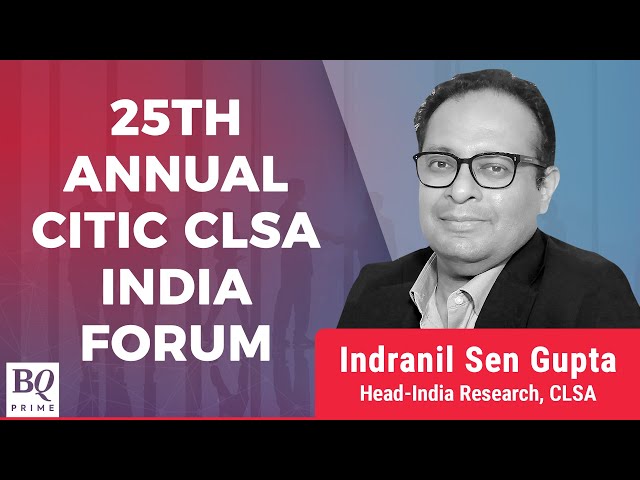 Fed Will Drive RBI's Rate Decisions, Says CLSA's Indranil Sen Gupta
Get Your
Daily Newsletter
Get market moving news, top news & compelling perspectives
---