FDA Commissioner Calls Menthol 'Significant Problem' in Tobacco
FDA Commissioner Calls Menthol 'Significant Problem' in Tobacco
(Bloomberg) -- The head of the U.S. Food and Drug Administration called the presence of menthol flavors in nicotine products a major problem that has made it easy for young people to start smoking.
"Menthol is a significant problem," FDA Commissioner Scott Gottlieb said at an event in Washington Tuesday, ahead of an expected announcement by the agency later this week of plans to restrict the use of some flavors, including menthol, in tobacco products.
"I don't think the tobacco industry should be marketing products, if not directed at kids, make it exceptionally easy to get kids started on combustible cigarettes," Gottlieb said at the event, which was hosted by the Washington Post. He also said the agency, which regulates tobacco products, would take action on flavored cigars.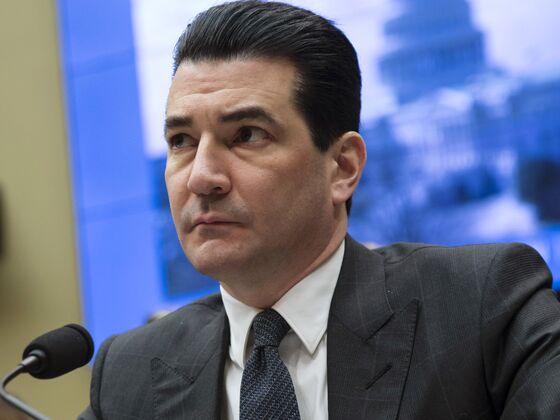 Menthol cigarettes offer a milder, cooling sensation that can offset tobacco's harsher flavor. British American Tobacco Plc's Newport brand accounts for about 40 percent of its U.S. sales, according to Duncan Fox, an analyst at Bloomberg Intelligence. Altria Group Inc.'s Marlboro comes in a menthol version that is also a major product.
Shares of the companies fell. Swedish Match AB, a major manufacturer of flavored cigars, dropped 6.6 percent in Stockholm. British American Tobacco fell 1.9 percent in London, while Altria was down less than 1 percent in New York.
The agency also plans to strictly limiting the sale of sweet, dessert-style e-cigarette flavors. The restrictions would limit sales to adult-only establishments, and would apply to pod-style devices like those used in closely held Juul Labs Inc.'s market-leading vaping device, Gottlieb said Tuesday.
"We're going to have to step into the market, and we will, and we're going to have to create some speed bumps, unfortunately, that might make it a little harder for adults to get access to the full range of products that they want to make it a lot harder for kids to get access," Gottlieb said.
The biggest channel for young people's purchase of flavored e-cigarette pods was through convenience stores, Gottlieb said, and that would be the target of the agency's coming rules.
"We are going to be putting in place some additional restrictions on how these products can be sold, particularly the flavored products," he said. "That's my legal mandate, is to bring down smoking rates."
Gottlieb has called e-cigarettes safer than combustible tobacco, which makes them a powerful tool for switching traditional smokers and helping them avoid risks like cancer. But he's also expressed concerns about what the agency has called an "epidemic" of new, young users of e-cigs.
"This cannot come at the expense of addicting a whole generation of kids on nicotine through these e-cigarettes, and that's in fact what we're seeing," Gottlieb said at the event.
To contact the reporter on this story: Anna Edney in Washington at aedney@bloomberg.net
To contact the editors responsible for this story: Drew Armstrong at darmstrong17@bloomberg.net, Timothy Annett