Falling Renewable Prices To Aid India Achieve Its Clean Energy Target, Says Amitabh Kant
India will meet its goal of installing 175 gigawatts of renewable capacity by 2022 due to falling clean energy tariffs, Kant said.
03 Aug 2019, 1:43 PM IST
India will easily meet its goal of installing 175 gigawatts of renewable capacity by 2022 given the rate at which clean energy tariffs—especially solar—are falling, according to NITI Aayog's Chief Executive Officer Amitabh Kant.
A couple of years ago a vast supply of coal led us to think our energy requirements would be greatly met by thermal power, Kant said at the Bloomberg New Energy Finance Summit. But with cheaper cleaner energy prices, solar energy could account for close to 330 GW by 2030, he said. "This is because India's unique strength lies in its ability to harvest the sun's power."
He, however, said that the road ahead for the electricity sector faces challenges. Distribution companies must become commercially viable, he said. "If they aren't, and we start cross-subsidising power and load tariffs on manufacturing, it will be very difficult for discoms to be commercially viable."
He favoured radical reform in the power sector, with emphasis on transmission and grid management.
On India's EV Roadmap
Kant said India has only 25-26 cars per thousand, freeing the nation of a legacy issue. "The level of destruction in Europe and America will be very high and thus, India will be able to smoothly transit toward electric vehicles."
That comes as the Goods and Services Tax Council lowered tax on electric vehicles and charging stations earlier this week. Kant said such measures are aimed at bettering quality of life. "The government will be the facilitator and catalyst to put the ecosystem for the EV model but it's for the private sector to drive it."
"We lost out on the mobile revolution, the photovoltaic revolution and the telecom equipment revolution but we'll not allow that to happen in the EV world," Kant said.
Key Highlights:
Payments to generators must be made on time.
Discoms must be commercially strengthened—a huge task for the administration and political system.
India very often gets into the sunset sector of industries, and not the sunrise sectors.
Regulators must do away with regulatory assets. They must work towards financial discipline and ensure price escalation takes place on an annual basis, ensuring commercial viability of power projects.
Huge challenges as far as coal and gas projects are concerned. Many were taken without a power purchase agreement.
We need to clean up air and provide a better quality of life, for which government measures are necessary.
The future of electric vehicles lies in India and we must focus on pushing electric bikes and three-wheelers.
We must ensure that EVs are charged with renewable, clean power.
Next round of reforms must revolve around sectors like oil and coal and gas, mining. We must commercialise these areas, including railways to drive growth.
Growth Slowing Down In India
The NITI Aayog CEO also spoke about the economy slowing down, admitting candidly that one of the reasons for the drop are the structural reforms introduced by the government in quick succession. He said its crucial that the next round of reforms focus on sectors like oil and gas, mining and coal.
Watch the full interaction here: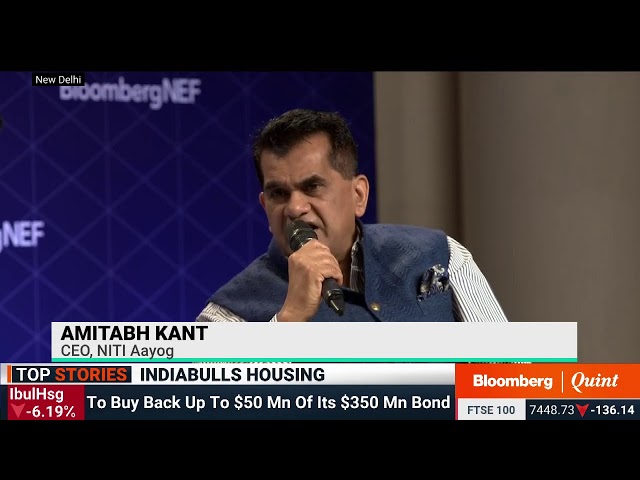 Investment Isn't Charity, Says Energy Minister Dharmendra Pradhan
Get Your
Daily Newsletter
Get market moving news, top news & compelling perspectives
---