Dubai Port Operating Normally After Blast Rocks Trade Hub
Container Explosion Occurs on Ship Docked at Port in Dubai
(Bloomberg) -- Dubai's Jebel Ali Port, the largest in the Middle East, said normal operations resumed on Thursday after a blast on board a ship rocked the facility just before midnight.
Several residents in western parts of the city, including the restaurant and residential district of Dubai Marina, said on social media the explosion rattled their windows and even shook walls of buildings.
A fire broke out at 11:55 p.m. on Wednesday aboard the Ocean Trader container ship, the energy ministry of the United Arab Emirates said.
"The evacuation procedure of the ship's crew and workers on the berth was carried out promptly," the ministry said in a statement. "The logistics and operational facilities of Jebel Ali Port have not suffered any damage, and the accident has not affected the movement of ship."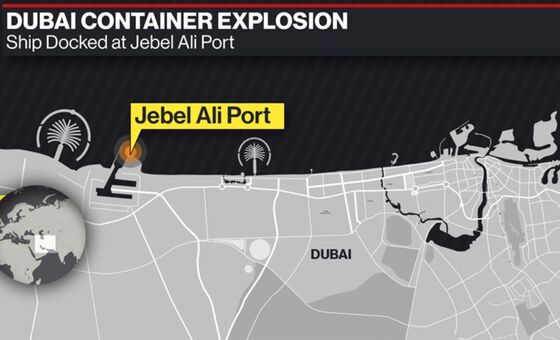 Jebel Ali is one of the world's busiest ports. It handled 71 million twenty-foot equivalent containers in 2020, according to its operator, DP World.
It's also an important location for the U.S. military as it can handle aircraft carriers. Collectively, UAE ports host more American naval ships than those of any other country aside from the U.S. Roughly 3,500 U.S. military personnel are stationed in the UAE.