Ex-Banker Who Challenged Belarus Ruler Gets 14 Years in Jail
Ex-Banker Who Challenged Belarus Strongman Gets 14 Years in Jail
(Bloomberg) -- Belarus's Supreme Court sentenced the former head of a Kremlin-controlled bank who sought to challenge President Alexander Lukashenko in last year's elections to 14 years in jail, as the longtime ruler continues a sweeping crackdown on opponents.
The court in the capital, Minsk, convicted Viktor Babariko and imposed fines totaling more than $18 million, his press service said Tuesday. The ex-CEO of Belgazprombank faced charges of bribery, conspiracy and money-laundering, which he denies. His son Eduard and members of his campaign team remain in prison awaiting trial.
Babariko's lawyer, Dzmitry Layeuski, said he would seek to overturn the verdict, though there are no higher courts to appeal to in Belarus. He also plans to raise the case with the United Nations Human Rights Council, he said.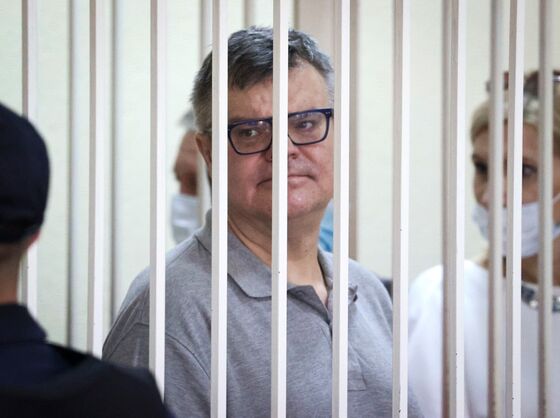 Babariko, 57, resigned in May last year from the bank owned by Russia's state-run Gazprom PJSC to run against Lukashenko, who was seeking a sixth term to extend his 26-year rule. Within weeks, the authorities arrested him after opening a criminal probe into the bank. Babariko was held in jail for more than a year by the former Soviet republic's security service, which is still called the KGB.
"It's an insane sentence for a person who decided to enter politics and became one of the leaders who roused the country from its long slumber," opposition leader Sviatlana Tsikhanouskaya, who's in exile, said on Telegram.
Since claiming victory with 80% in August elections denounced as fraudulent by the U.S. and the European Union, Lukashenko has waged a relentless campaign of repression against opponents. While the West responded with sanctions, Russian President Vladimir Putin has backed his ally and boosted ties with Belarus.
Hundreds of activists are in jail or have fled abroad after violent police crackdowns on protests, with widespread allegations of torture in custody. Tsikhanouskaya has sought to rally international support for measures to isolate Lukashenko's regime.
Lukashenko on Tuesday urged officials to combat western sanctions by deepening relations with countries such as China, India and Vietnam that "don't teach us how to live," the state-run Belta news service reported.
He also warned that Belarus would continue to uphold commitments on preventing nuclear non-proliferation and illegal migration only "to the degree that it's needed and beneficial to our country," according to Belta.
After the forced landing in Minsk of a Ryanair flight in May and arrest of an opposition journalist on board triggered new Western sanctions, Lukashenko threatened to allow migrants to cross into the EU.