Evergrande Raises $1.4 Billion Selling Shares in EV Unit
Evergrande Raises $1.4 Billion Selling Shares in EV Unit
(Bloomberg) -- China Evergrande Group raised about HK$10.6 billion ($1.4 billion) selling shares in its electric vehicle unit, the latest effort by the nation's most indebted developer to boost capital.
The sale amounts to about 2.7% of outstanding shares in China Evergrande New Energy Vehicle Group Ltd., the real estate firm said in a filing to the Hong Kong stock exchange on Thursday. Evergrande NEV tumbled as the shares were sold at a 20% discount.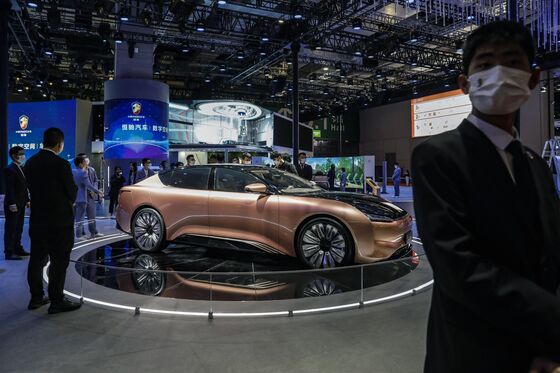 Evergrande has been selling assets to repair its balance sheet in line with Chinese regulators' efforts to deleverage the property sector. The company was in breach of all key metrics for reducing debt levels -- known as the "three red lines" -- at the end of last year, even as many of its peers improved.
After reporting its second straight year of declining profit in March, Evergrande unveiled plans to roughly halve the remainder of its borrowings over the next two years. To meet the goal, it needs to sustain share sales in its new businesses, analysts have said.
"Equity fundraising will make up an important source of Evergrande's debt reduction, as discounted property sales won't be enough to meet that aggressive goal," said Bloomberg Intelligence analyst Kristy Hung. "Selling shares of its subsidiaries would be a better option" given the low valuation of the parent company, she added.
The transaction will contribute 5.6% of the 156.5 billion yuan ($24 billion) in debt that it plans to pay off this year, Hung said separately in a note.
The company is selling 260 million Evergrande NEV shares at HK$40.92 apiece, according to the filing. That compares with the HK$51.15 close on Wednesday. Evergrande plans to use the proceeds for general working capital, it said.
Shares of Evergrande NEV dropped as much as 15% in Hong Kong on Thursday, and traded 7.8% lower at 12:29 p.m. local time. Evergrande slipped about 1%.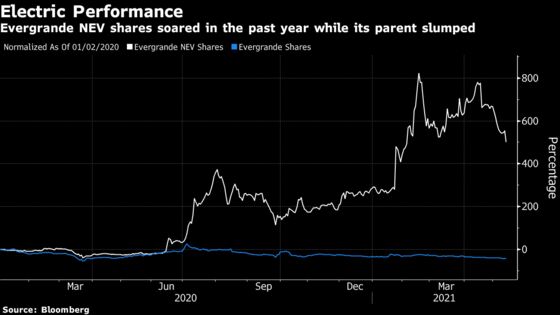 The transaction will reduce the ratio of the top 20 shareholders of the EV company to below 90%, helping it participate in the next step of the Hong Kong Stock Connect, Evergrande said. That would allow Chinese onshore investors to purchase shares in the unit.
Evergrande NEV shares have surged more than 600% in the past year as it increased its focus on electric vehicles, even though it has yet to start production. It's conducted a few test drives and unveiled a range of show models but done little beyond that.
The firm raised $3.4 billion in January, attracting friends and business associates of Evergrande chairman and billionaire Hui Ka Yan. It now has a market cap greater than Ford Motor Co.
Evergrande could further reduce leverage through an initial public offering of its online car and property sales platform later this year, BI's Hung said. The conglomerate raised HK$16.4 billion selling a stake in the business, known as FCB Group, in March.
While Evergrande has a "realistic path to materially reduce its total debt," lessening reliance on short-term borrowing will be more difficult, Fitch Ratings analysts wrote last month. Almost 47% of the developer's debt at the end of 2020 is short-term borrowings that mature this year, company data show.
With assistance from Bloomberg