European Gas Prices Surge Above 100 Euros With Eyes on Russia
European Gas Prices Surge Above 100 Euros With Eyes on Russia
(Bloomberg) -- Europe's benchmark natural gas price rose above 100 euros, or $190 per barrel of oil equivalent, ahead of a series of auctions for pipeline capacity that are seen as a test of Russia's willingness to ease a supply crunch.  
The day-ahead auctions for space on Ukrainian pipelines and capacity at Germany's Mallnow compressor station will provide a strong signal for how serious Russia is about increasing flows to the west. While the region's biggest supplier has said it aims to keep refilling European storage sites until the end of December, it hasn't used short-term auctions to ship more fuel. 
"Tuesday's auction for delivery on 1 December will set the tone for a month," said Tom Marzec-Manser, an analyst for European gas and LNG at ICIS. "These day-ahead capacity auctions will of course be watched intently by the market for any signal concerning flows from Russia."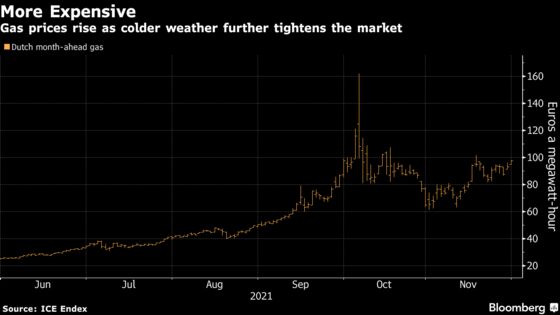 The benchmark contract for next month extended Monday's gain, climbing to as much as 101 euros per megawatt-hour on ICE Endex in Amsterdam. The U.K. main gas contract increased to as high as 251.44 pence a therm. 
Gas storage sites in Europe are depleting quickly with levels falling more than 10% since the start of the month. Stores are now 70% full, far below the 10-year average of 85% for this time of the year, according to data from Gas Infrastructure Europe.
German power for December jumped as much as 20% to 241 euros a megawatt-hour while the French equivalent surged 21% to a record 384 euros on European Energy Exchange AG.
Surging energy prices have boosted inflation and taken their toll in the energy industry across the globe, with retail companies from the U.K. to Singapore falling into bankruptcy and some of the continent's top energy companies curbing trading in the face of high volatility. Gas exporters, on the other hand, have been able to capture record profits.
Gazprom PJSC said yesterday its net income surged to an all-time high in the third quarter. While the Russian gas giant is already seeing some gas-demand destruction amid the price rally, it expects supply requests from its long-term clients to remain high into the first quarter of 2022, given how low storage levels are on the continent.
Market Stories, Analysis
Hedge Funds Boost Net Bullish Natural Gas Bets to 1-Month High
LNG Waiting for Buyers on Open Seas Down 10%