European Gas Retreats as Stable Flows Counter Sanctions Risk
European Gas Advances as EU Weighs New Sanctions Against Russia
(Bloomberg) -- Natural gas prices in Europe fell as stable supplies countered worries over fresh sanctions against top exporter Russia. 
Benchmark futures settled 2.3% lower with robust inflows of liquefied natural gas to the continent, milder weather forecasts and high wind output in parts of Europe. Gas shipments from Russia via key pipeline routes are also broadly stable, helping keep prices in check even with mounting calls for new penalties against Moscow.
"Losses reflect a relief in the market that flows have not been interrupted and that the winter trading period is firmly behind us," consultant DB Group Europe said in a note. Yet, the talk of applying new sanctions on Russia should add "some support" to prices, it said.
The European Union said it is working on additional sanctions to penalize Russia what appears to be war crimes in Ukraine. French President Emmanuel Macron said in a radio interview that the bloc will discuss new measures including possible restrictions on Russian oil and coal. 
But opinion seems to be divided over gas imports. While German Defence Minister Christine Lambrecht said over the weekend the bloc should talk about ending purchases of the fuel from Russia, Austria won't support measures targeting the sector as it would hurt the EU more than Moscow.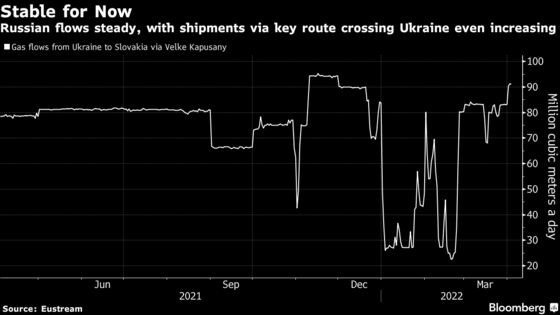 Traders are keeping a close watch on moves by buyers, particularly after Moscow last week initiated ruble payments for the fuel. While some are still assessing the plan, Lithuania, a relatively small client, has fully ended gas imports from Moscow in response to the demand.
Meanwhile, Germany is taking steps to safeguard its supplies after European units of Russia's Gazprom PJSC came under pressure from clients and business partners. Gazprom Germania GmbH, owner of energy supplier Wingas GmbH and a gas storage firm, will come under the trusteeship of the German energy regulator until Sept. 30, Economy Minister Robert Habeck said Monday. 
The move comes after the Russian gas giant exited the German subsidiary without seeking government approval, violating German law, he said.
Dutch front-month gas, the European benchmark, closed lower at 109.52 euros a megawatt-hour, after posting its first weekly gain in a month last week. The U.K. equivalent contract fell 5.2%.
Bearish signals also came after Maxar forecast higher temperatures in the continent later this week following a spell of cold weather. That could reduce demand for gas, with the winter heating season almost ending.  
Supply, meanwhile, remains robust with LNG cargo arrivals in northwest Europe set to remain strong after a flurry of imports in the first four days of the month, ship-tracking data on Bloomberg showed. Most shipments came from the U.S., followed by Qatar and Russia. Imports in March were near the January record. 
NW EUROPE LNG TRACKER: Flurry of U.S. Cargoes Scheduled in April
Market News
Mild Weather in Asia to Release LNG for Freezing Europe: BNEF
Supply to Determine Europe's Gas Storage at Summer's End
With assistance from Bloomberg