Europe Debt Risk Gauges Jump Most Since August on Sell-Off
Europe Debt Risk Gauges Jump Most Since August on Sell-Off
(Bloomberg) -- A key measure of risk for the debt of Europe's most fragile companies jumped to the highest since August as deepening fears about the impact of China's coronavirus roiled markets.
The Markit iTraxx Crossover Index linked to companies with mostly junk ratings climbed more than 10 basis points to around 229 on Monday, the most since August, according to CBIL prices compiled by Bloomberg. The cost of insuring investment-grade and financial bonds against default also rose.
"We're seeing a generalized sale of risk as the market is scared, to some extent because it's unclear what's going on and how bad it can be," said Juan Valencia, a credit strategist at Societe Generale, in a telephone interview. So far the news "is not something that might impact the ability of companies to repay their debt."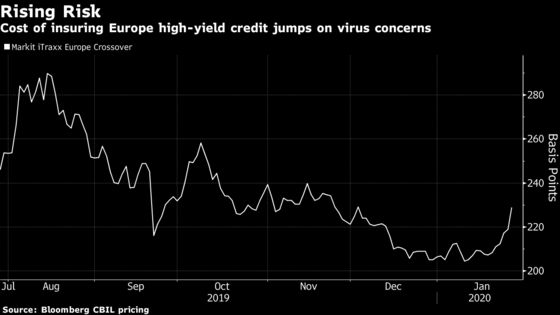 Investors are exercising caution with retail, leisure and transportation sector firms, with high-yield rated duty-free shops operator Dufry AG's 750 million euros of bonds due in February 2027 falling more than one cent on the euro to 98 cents. Euro notes of shipping giant CMA CGM SA and Merlin Entertainments Plc, which operates 34 sites in the Asia Pacific region generating about 17% of its revenues, also fell.
Merlin has 12 smaller-scale Midway sites in mainland China that remain closed until further notice, CreditSights analysts wrote in a note to clients on Monday.
The surge in global risk measures follows a sell-off in U.S. equity markets on Friday that is poised to continue Monday after Asian stocks, crude oil and China's yuan all took a battering.
The death toll from the virus has jumped to at least 80, up from just two a week ago, with more than 2,700 confirmed cases of the infection in China. The Chinese government has extended the Lunar New Year holiday to Feb. 2, in an effort to contain its spread.
The impact is also being felt in Europe's market for new bonds with two weeks of record activity slowing markedly. Just four borrowers are marketing deals today in the slowest Monday for three weeks. Borrowers have so far raised more than 208 billion euros ($229 billion) this month, in the best-ever start to a year
--With assistance from Neil Denslow.
To contact the reporters on this story: Hannah Benjamin in London at hbenjamin1@bloomberg.net;Irene García Pérez in London at igarciaperez@bloomberg.net
To contact the editors responsible for this story: Vivianne Rodrigues at vrodrigues3@bloomberg.net, Chris Vellacott