Europe's Corporate Credit Market Holds Firm as U.K. Votes
Corporate credit markets are holding firm Thursday as U.K. voters head to the polls to decide whether Boris Johnson's Conservative party will remain in power and lead the country out of the European Union.
The Markit iTraxx Europe index tracking European credit risk eased slightly in early London trading while long-dated pound bonds from Vodafone Group Plc and University of Cambridge ticked higher. The riskiest bonds issued by U.K. lenders were a touch softer, with Barclays Plc's 1.25 billion pound ($1.7 billion) 5.875% CoCo note slipping 0.18 pence to 103.38 pence on the pound, the lowest in a week, according to data compiled by Bloomberg.
"The U.K. election result is crucial," said Marco Baldini, head of European bond syndicate at Barclays Plc. He said the outcome of a number of factors including the size of any Conservative majority and potential implications for Brexit "could have a big effect on the markets."
In the high-yield market, the Markit iTraxx Crossover Index of credit-default swaps on speculative-grade companies narrowed 1.3 basis points to about 220, the lowest in nearly three months.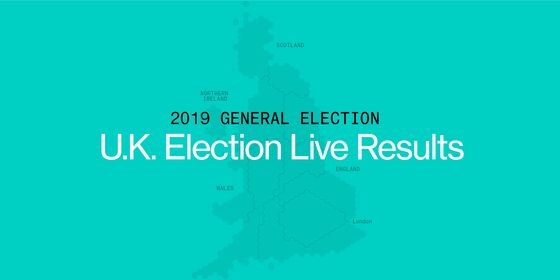 A Conservative majority would likely trigger a relief rally on hopes that Brexit will finally happen, while a hung Parliament or Labour win may spook markets, given the opposition party's promise to go back to the drawing board on the U.K.'s withdrawal agreement with the EU.
"A hung parliament is the real problem - it has been a good year for a lot of active fund managers who will likely be tempted to say thanks and take profits," said Luke Hickmore, investment director at Aberdeen Standard Investments in Edinburgh.
Nationwide Building Society's 5.875% perpetual pound note rose 0.19 pence to about 107.37 pence on the pound in mid-morning Thursday trading, Bloomberg data show. Long-dated sterling notes from The Wellcome Trust Ltd. and Electricite de France SA also rose slightly.
To contact the reporters on this story: Hannah Benjamin in London at hbenjamin1@bloomberg.net;Priscila Azevedo Rocha in London at pazevedoroch@bloomberg.net
To contact the editors responsible for this story: Vivianne Rodrigues at vrodrigues3@bloomberg.net, Chris Vellacott