EU Threatens Spain Over Tapping Water From Protected Wetlands
EU Threatens Spain Over Tapping Water From Protected Wetlands
(Bloomberg) -- The European Commission warned it would penalize Spain if the country carries on with plans to extract more water from one of Europe's largest wetlands, a sign of a tougher stance on environmental preservation.
The European Union's executive arm is ready to act "swiftly" and with "all the means available" if Spain fails to uphold a ruling issued last year that demanded the country protect the area, according to an emailed statement. 
"We are deeply concerned about the recent plans that would add to the unsustainable levels of water abstraction," said Daniela Stoycheva, Commission spokeswoman for environment, maritime affairs and fisheries. 
Last week, lawmakers in the Spanish region of Andalusia approved a proposal to expand water rights for farmers near the Donana national park, a UNESCO World Heritage site on the southern coast of Spain.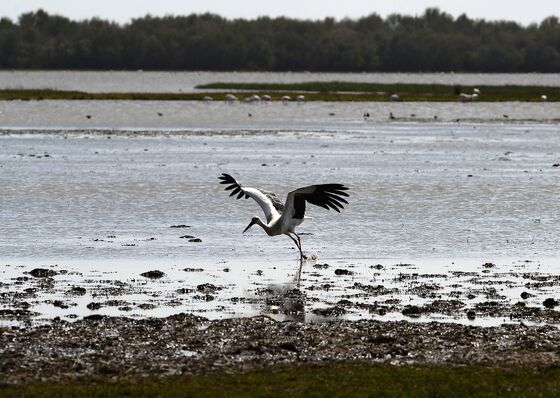 The law could grant irrigation rights on as much as 1,900 hectares, according to the WWF. In a 2019 complaint to the commission, the organization claimed that thousands of wells had already been operating illegally for years to water the lucrative strawberry farms.
In response to the proposed legislation, Florika Fink-Hooijer, the commission's director general for the environment, sent a letter to Spain's government expressing her unease with the proposal and urging authorities to take action. 
Last year, the European Court of Justice ruled that Spain was infringing on EU law by failing to avoid the deterioration of protected habitats in Donana. 
The area is one of the last refuges for endangered species such as the Iberian Lynx and the Spanish Imperial Eagle. Wetlands are also important for storing carbon dioxide in the fight against climate change.
While Spain's Socialist-led government has taken up the issue, it's caught in the country's complex regional politics. 
Teresa Ribera, Spain's minister for the ecological transition, sent a letter last week to Andalusia's president -- a member of the conservative People's Party -- warning about the commission's concern and the potential repercussions. 
She asked the local government to withdraw the law, noting that Andalusia had overstepped its jurisdiction on water rights, which is a matter for the federal government, the ministry said in response to Bloomberg questions.