G-7 Vow on Shots; U.S. Donating 500 Million Doses: Virus Update
(Bloomberg) -- The Group of Seven nations is set to vow to deliver at least 1 billion extra doses of vaccines over the next year to help cover 80% of the world's adult population, according to a draft communique seen by Bloomberg News.
U.S. President Joe Biden's administration intends to buy 500 million doses of Pfizer Inc.'s vaccine to share internationally through a World Health Organization-backed program to help lower-income nations.
Mayor Bill de Blasio said it would be hard to reach his goal of fully vaccinating 5 million New Yorkers by the end of June. The European parliament approved vaccine passports, a key step toward easing travel across the European Union.
More than 80% of the athletes participating in the Tokyo Olympics next month have been vaccinated. The U.K., facing a surge fueled by the delta variant first identified in India, reported the most new cases since February. Italy may allow discos to reopen in early July, while France permitted restaurants to seat diners indoors.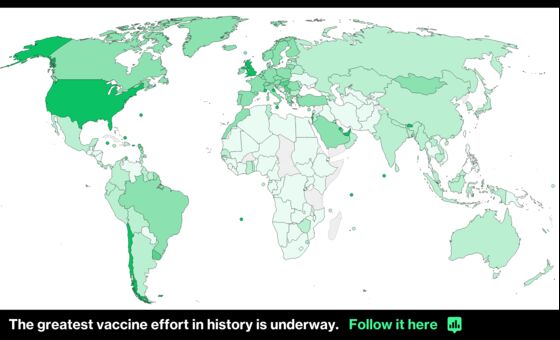 Brazil Warning From Fiocruz (5:15 p.m. New York)
Data in Brazil shows the virus continues to be transmitted at a high speed across the country, the Fiocruz health foundation warned. The combination of rising cases, despite a slight drop in deaths, and high levels of ICU bed occupancy is worrisome, Fiocruz said. The nation has 12 states where ICUs are 90% full or more, it added.
South Africa Cases Indicate Third Surge (3:25 p.m. NY)
The number of new confirmed cases in South Africa surged to 8,881, with a positivity rate of 16.5% on tests conducted. "The increased number of tests and cases, and increased positivity are all evidence of the predicted third surge in Covid-19 cases," the National Institute of Communicable Diseases said in a statement on Wednesday. The commercial hub of Gauteng accounted for 58% of the new cases. South Africa is the worst-affected nation on the continent, with over 57,000 deaths and 1.7 million confirmed infections.
U.S. to Donate 500 Million Pfizer Doses (2:24 p.m. NY)
President Joe Biden's administration intends to buy 500 million doses of Pfizer Inc.'s coronavirus vaccine to share internationally, as the U.S. turns its attention to combating the pandemic globally, according to a person familiar with the matter.
The government will buy about 200 million doses this year to distribute through the World Health Organization-backed Covax program and about 300 million doses in the first half of next year, the person said.
The vaccines will go to 92 lower income countries and the African Union, the person said. Biden will announce the plan Thursday in remarks ahead of the Group of Seven summit in the U.K.
IOC Says 80% of Athletes Are Vaccinated (12:01 p.m. NY)
More than 80% of the athletes participating in the Tokyo Olympics next month have been vaccinated, according to the International Olympic Committee. "We are over and above the 80% mark," Olympic Games Executive Director Christophe Dubi said during a virtual press conference Wednesday in Lausanne.
U.K. Reports Most New Cases Since February (11:30 a.m. NY)
The U.K. reported 7,540 more cases of Covid-19 on Wednesday, the most since Feb. 26, according to the government's data dashboard. The number of people hospitalized stood at 1,024 as of June 7, crossing 1,000 for the first time since May 12.
The delta variant first identified in India has led to a spike in cases in England and Scotland.
NYC Falling Short of 5 Million Goal (11:15 a.m. NY)
Mayor Bill de Blasio said it would be hard to reach the administration's goal of fully vaccinating 5 million New Yorkers by the end of June. He said the city was 76% of the way to that target. Over 4.4 million New Yorkers have had one dose, and 95% of people who get the first dose have come back for their second, he said.
Only about 45% of the city is fully vaccinated, but the rates vary by borough and by age: 57% of Manhattan is fully inoculated compared with 36% in Bronx. Likewise, only 39% of people age 18 to 24 are vaccinated, compared with 72% of people age 65 to 74.
Scotland Faces Delta-Fueled Spike (10:15 a.m. NY)
Scotland identified more than a 1,000 new cases of coronavirus during the past 24 hours for the first time since February, just days after restrictions on movement and social interaction were relaxed for much of the country.
The semi-autonomous Scottish government, which is responsible for health among other areas of the economy, reported 1,011 new cases yesterday, the highest daily number in about four months. That means almost 243,000 of the nation's 5.5 million people have tested positive for the virus since the start of the pandemic.
The delta variant first discovered in India has led to a spike in new cases in Scotland's largest city, Glasgow, as well as more recently in the capital, Edinburgh.
Most English Adults Have Antibodies (8:34 a.m. NY)
Eight in 10 adults in England now have antibodies protecting them against Covid-19 as the government forges ahead with its vaccination program. The estimate from the Office for National Statistics comes at a critical time with ministers due to announce Monday whether the final phase of the reopening of the economy will go ahead on June 21. That plan has been thrown into doubt by the highly transmissible strain of the virus first identified in India, which is now spreading fast in the U.K.
Denmark Infections Slow (8:21 a.m. NY)
Denmark's infections slowed for the first time in almost four months, helped by the rollout of vaccinations and seasonal factors, the country's health minister said.
The infection rate for the week through May 30 was 0.8, meaning that each infected Dane passed the virus on to fewer than one person, on average, Health Minister Magnus Heunicke said in a tweet on Wednesday. The last time the rate was below 1 was in early February.
Airlines Call for Common Standards (8:18 a.m. NY)
Global airline alliances oneworld, SkyTeam and Star Alliance renewed their calls for governments to adopt aligned travel measures to restart international travel, according to a blog post on the Delta Airlines website.
The alliances, which collectively represent almost two-thirds of global air capacity before Covid, are calling on G-7 governments to agree on a common set of travel and health standards for the safe reopening of borders. They're also urging the governments to exempt from quarantine fully vaccinated passengers, and to make Covid testing easily accessible, affordable and consistent.
Indonesia Cases at 3-Month High (5:36 a.m. NY)
Indonesia recorded 7,725 new cases on Wxednesday, the most since February, and the government warned that infections could keep increasing until July. Southeast Asia's largest economy is banking on a mass vaccination program to curb the pandemic. President Joko Widodo called on his officials to accelerate the plan to administer 1 million shots a day by July.
With assistance from Bloomberg