EU to Ban Seven Russian Banks From SWIFT, Spare Key Firms
(Bloomberg) -- European Union ambassadors agreed to exclude seven Russian banks from the SWIFT financial-messaging system but spared the nation's biggest lender Sberbank PJSC and a bank part-owned by Russian gas giant Gazprom PJSC. 
VTB Bank PJSC and Bank Rossiya are among the banks that face a ban from the messaging system that enables trillions of dollars worth of transactions around the world, according to officials familiar with the decision. The measures in response to Russian leader Vladimir Putin's invasion of Ukraine are expected to be adopted overnight. 
The other institutions included on the EU list are Bank Otkritie, Novikombank, Promsvyazbank PJSC, Sovcombank PJSC and VEB.RF, said the officials, who asked not to be identified because the decision was private. 
Some countries, including Poland, had pushed for more banks to be included in the measure, they said. The measures will only come into force 10 days after adoption, people said. One major member had asked for 30 days, they added. While unlikely, the list could still be tweaked before it formally comes into force.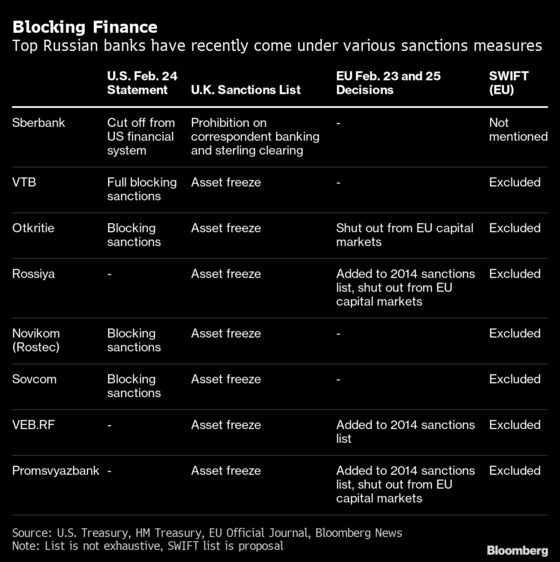 The absence of Sberbank PJSC and Gazprombank shows the continuing level of concern over the consequences for Europe from a financial isolation of Russia spilling over into the global economy, especially when it comes to energy supplies. The bloc is also worried Russia could retaliate by cutting deliveries.
The plan to boot some Russian banks off the SWIFT messaging system was announced over the weekend in a joint statement by the European Commission, U.S., France, Germany, Italy, U.K. and Canada. 
Sberbank has twice as many assets as any other bank in Russia, the world's largest energy exporter. It holds around half of the country's deposits, with more than 100 million retail clients. Gazprombank is a key bank for Russia's energy conglomerates.
SWIFT, which delivers secure messages among more than 11,000 financial institutions and companies, is central to the global financial system and an inability to access it could cause significant economic damage. Russia has developed its own financial messaging system, but it has fewer than 400 financial institutions and few foreign firms.
SWIFT, based in Belgium, said that while it is a neutral global cooperative with members in 200 countries, it's obliged to comply with EU and Belgian regulations. "We will disconnect them once we receive legal instruction to do so," the organization said in a statement Tuesday.