ESG Bonds Get Dinged for Soft Targets, Morgan Stanley Says
ESG Bonds Get Dinged for Soft Targets, Morgan Stanley Says
(Bloomberg) -- Bonds that are meant to give companies an incentive to do the right thing usually notch the most price gains when they force corporations to meet rigorous targets and charge a relatively high penalty for failing to do so. 
At least, that's true for the 30 days or so after the securities known as sustainability-linked bonds are first sold, according to Morgan Stanley strategists. After that, investors tend to differentiate less among bonds that might encourage companies to behave well and those that don't, strategists including Carolyn Campbell wrote in a note Thursday.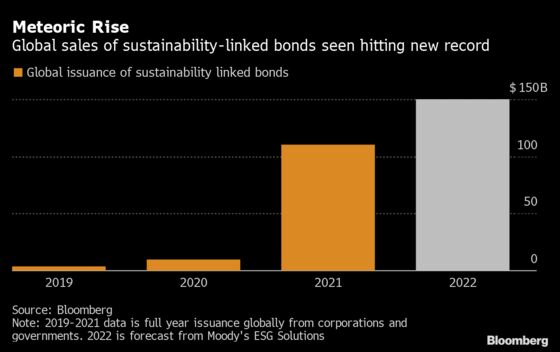 The analysts looked at the average performance of a subset of sustainability-linked bonds relative to benchmark indices over the 30 working days post-issuance and over the past four months. They selected bonds that had sufficient data to calculate projected 2030 emissions reduction and a maximum financial penalty score. 
"The more rigorously structured SLBs did in fact outperform versus less rigorous structures in the first 30 days after issuance," wrote the analysts.
Sustainability linked bonds are a subset of bonds that are tied to environmental, social, and governance goals. While often ESG debt is designed to fund projects that help achieve goals that make the world in some sense better, such as building a more energy efficient factory, the proceeds for sustainability-linked bonds can be used for anything. 
The ESG component with sustainability-linked bonds is that the company or government selling the securities needs to meet performance targets, such as cutting emissions by a certain amount annually. If the borrower fails to, it will pay more interest.  
Global sales of sustainability-linked debt hit a record $110 billion last year, compared with $11 billion issued in 2020, according to data compiled by Bloomberg. Moody's ESG Solutions expects issuance of the debt to hit $150 billion this year. Investors and analysts around the globe, however, have raised questions about whether some of these securities amount to greenwashing, pointing to decidedly un-ambitious goals that borrowers pledge to meet.
Over the long term, Morgan Stanley expects the size of the penalties and the ambitiousness of the targets to have an impact on price performance for the bonds. Investors now may want to focus on buying the well structured bonds at relatively good prices, to profit from the fact that these securities will perform better over time, the strategists said.  
Investors can "capture the benefit of the future price discrimination by investing in higher quality SLBs now," wrote the strategists.