East Africa to Ease Debt Burden as States Rebound From Virus
East Africa to Ease Debt Burden as Economies Rebound From Virus
(Bloomberg) -- Three East African states are betting on an economic recovery from the coronavirus fallout to boost revenues and lower fiscal deficits projected at a combined $16.4 billion in the year starting July 1.
Finance ministers of Kenya, Uganda and Tanzania presented their 2021-22 budgets on Thursday, projecting growth in revenue as economic activity picks up. Spending plans have been increased in the countries, except Uganda.
"The most relevant point is that growth was weak last year, so there will be a recovery," said Razia Khan, chief economist for Africa and the Middle East at Standard Chartered Bank. "It's not so much the growth rate that matters as much as how quickly fiscal revenue recovers."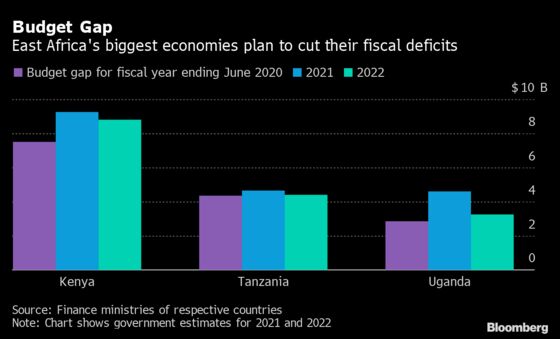 Here are some highlights from the budget statements:
Treasury Secretary Ukur Yatani announced spending plans of 3 trillion shillings ($27.8 billion), excluding redemptions -- compared with 2.89 trillion shillings in the previous fiscal year. Of that, 383 billion shillings will be invested in infrastructure, energy and information communication technology projects, including the building of railways, water plants and the development of the region's busiest port in Mombasa. About 142 billion shillings will go to funding President Uhuru Kenyatta's Big Four program to boost the health system, manufacturing, housing and food security.
The spending will probably lift economic growth to 6.6% this year from and estimated 0.6% in 2020. Yatani proposed tax measures and reviewed exemptions, with an aim of increasing ordinary revenue by 13%. That could help narrow the fiscal deficit to 7.5% of gross domestic product from an estimated 8.7% in the year ending June 30.
"We remain committed to reducing the level of tax exemptions to create parity of treatment, while also raising more revenues to fund social programs and reducing the fiscal deficit," Yatani said.
Yatani also said state agencies and county governments should pay money owed to suppliers, contractors and pension funds by June 30, in order to unlock the liquidity needed to spur businesses. Similar directives in the past have, however, not been fulfilled. The national government's pending bills stood at 307.8 billion shillings at the end of March while counties were yet to pay 113.8 billion shillings as of June last year.
The extent of growth this year will depend on whether there are further Covid-19 containment measures, Khan said.
Tanzania targets the lowest fiscal deficit among the three nations, at 1.8% of GDP, compared with an estimated 2.6% in the current fiscal year. That's expected even as Finance Minister Mwigulu Nchemba announced a 4% increase in planned expenditure to 36.3 trillion shillings ($15.6 billion).
Nchemba is betting on a 9.2% increase in tax revenue. He proposed measures, including the introduction of a levy on transactions made from mobile-phone wallets with a target of generating about 1.3 trillion shillings in the fiscal year.
The government expects the economy to expand by 5.6% this year from 4.8% in 2020.
Spending plans were reduced slightly to 44.8 trillion shillings ($12.7 billion), partly because external project financing is expected to fall by almost a third, according to Minister of State-designate for Finance Amos Lugoloobi.
The fiscal deficit is forecast to narrow to 6.4% of GDP from 9.9%. That estimate assumes that spending won't be ramped up during the year, and that the government will achieve its target of increasing revenue by 15%.
The economy, now equivalent to $40 billion, is forecast by the government to expand 4.3% in 2021-22 from estimated growth of 3.3% in the period ending June 30.