Dubai Puts Air Conditioning on the Block in Rare Government Asset Sale
Dubai Puts Airport's Cooling Operation on the Block in Rare Sale
(Bloomberg) -- Dubai is seeking a buyer for the cooling system operations of its biggest airport as Gulf Arab states lean on asset sales and debt to shore up their finances.
The government entity overseeing the main airport's infrastructure has hired Standard Chartered Plc as adviser on the transaction, with the entire business valued at around $750 million, according to people familiar with the matter, who asked not to be identified because details are private. As part of the deal, investors obtain a long-term lease to operate the assets, they said, offering steady returns for the duration of the contract.
The company is looking to offer a controlling stake and is approaching local and international district cooling specialists, as well as global infrastructure players, the people said. Talks are at an early stage and there is no guarantee a deal will be reached.
StanChart declined to comment. Dubai's media office didn't reply to messages seeking comment.
A deal would generate much-needed revenue for Dubai. Similar to other governments in the Gulf, the emirate is trying to contain the damage caused by the coronavirus pandemic amid a broader economic downturn linked to low oil prices. It's already joined a regional debt binge in recent months, with the emirate tapping public markets for the first time in six years and its sovereign wealth fund also issuing bonds.
Selling state assets is more rare, with the latest deal done in 2019, when Dubai-owned Meraas Holding LLC agreed to let Brookfield Asset Management Inc. own and operate some of it's retail holdings.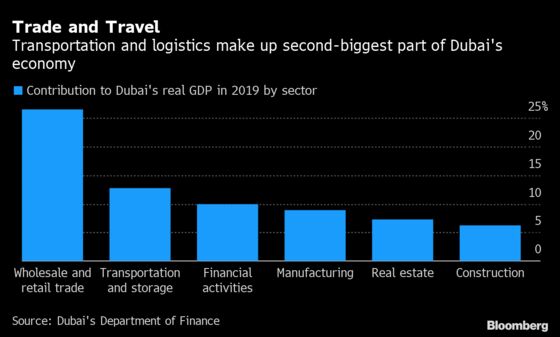 Other governments in the region are increasingly turning to their national oil companies to stabilize finances. Saudi Aramco is looking to sell a stake in its pipeline unit, following a move by its Abu Dhabi counterpart, which already raised billions of dollars from global investors with a flurry of similar infrastructure deals.
Built on trade and tourism and lacking the oil wealth of its neighbors, Dubai's fundraising is likely to focus on key sectors of its economy such as travel, logistics and real estate.
The emirate revised this year's budget revenue to 44.2 billion dirhams ($12 billion), according to the prospectus for its bond sale, down more than 30% from what it originally envisaged. It also decreased its projected expenditure to 56.2 billion dirhams for 2020, leaving a deficit of 11.9 billion dirhams.
A potential sale would also allow the airports owner to hand over the handling of the mammoth district cooling operations to more specialized and cost-efficient operators.
With a surface of over 2 million square meters (22 million square feet), Dubai's international airport is one of the world's largest and busiest travel hubs. It is the home of Emirates airline, which helped cement Dubai's place as an international tourism and business center.
District cooling is the preferred and most sustainable method in the Gulf region to combat temperatures that often soar above 110 degrees Fahrenheit (43 Celsius) during the summer. Plants generate chilled water, which is then sent through pipes to cool the air of buildings ranging from Dubai's many skyscrapers and villas to its metro line and theme parks.
The sector has been consolidating, with Abu Dhabi's Tabreed -- whose major shareholder is France's Engie SA -- expecting more deals after buying a 80% stake of Emaar Properties' district cooling unit for $675 million. Standard Chartered advised Emaar on the deal.