Elliott Reveals 'Significant' DTE Stake, Hails Pipeline Spinoff
Elliott Reveals 'Significant' DTE Stake, Hails Pipeline Spinoff
(Bloomberg) -- DTE Energy announced plans to spin off its pipeline and storage business and become a pure natural gas and electric utility after activist investor Elliott Management Corp. took a stake in the company.
DTE is the latest power supplier to retreat from pipelines after growing aggressively in the sector. Investor and political push back against fossil fuels is making it difficult to build new pipelines for expansion. Dominion Energy Inc. agreed to sell almost all of its gas pipeline and storage assets in July to Berkshire Hathaway Inc.
Elliott on Tuesday disclosed that it held a "significant interest" in DTE and applauded the move. "We believe the new DTE Energy and DTE Midstream will stand as leading companies in their respective sectors," Elliott said in a statement.
DTE said in a statement Tuesday that the spin off is the result of a series of strategic discussions that began in the summer of 2019. "Separating Midstream from DTE Energy sharpens both companies' focus on their respective strategic priorities and stakeholder needs," DTE Chief Executive Officer Jerry Norcia said.
Over the past few months, Elliott executives have held several meetings with DTE to discuss the advantages of spinning off or selling the midstream business, according to people familiar with the matter. Elliott estimates the move could create upwards of $5 billion in value for shareholders, the people said, asking not to be identified because the matter is private.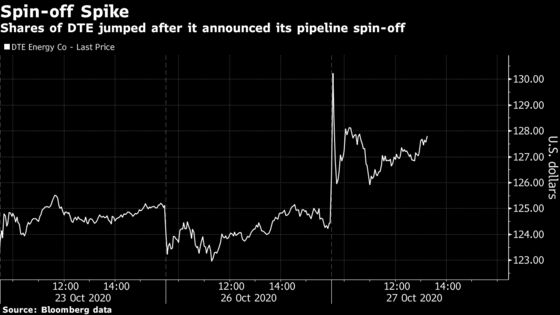 DTE shares rose as much as 5.4% Tuesday. Before announcing the deal, the company's stock had declined 4.3% this year, trailing the S&P 500 Utilities Index's 0.2% rise.
DTE investors will get shares of the new midstream company in a deal that's expected to be tax-free to them and to DTE for U.S. federal income tax purposes, the Detroit-based company said Tuesday in the statement.
Bloomberg had previously reported that DTE was considering unloading its natural gas pipelines and other non-utility operations.
The company provides power for 2.2 million homes and businesses in southeast Michigan. It also has about 1.3 million gas customers. Its pipeline business has 900 miles (1,448 kilometers) of transmission lines and 1,450 miles of gathering lines.
David Slater, currently president of DTE Midstream, will become president and CEO of the new pipeline company. Robert Skaggs Jr., a DTE board member and former CEO of NiSource Inc., will be executive chairman.
At NiSource, Skaggs oversaw the successful spin-off of Columbia Pipeline Group, Inc. in 2015. Columbia was sold to TransCanada Corp. the following year for roughly $12 billion.
The new company will be based in Detroit. DTE plans to complete the spin off by mid-2021.