DoorDash Block Worth $2.2 Billion Is Offered by SoftBank
(Bloomberg) -- SoftBank Group Corp. is offering $2.2 billion of its stake in DoorDash Inc. in a block trade through Goldman Sachs, according to a person familiar with the matter. 
The premarket block trade offered 11.4 million shares at $182.95 to prevailing market prices, the person said, the latest move in SoftBank's selling spree that nearly tripled to $14 billion last quarter. DoorDash fell 5% on Thursday, second-most in the 107-member S&P Retail Select Industry Index.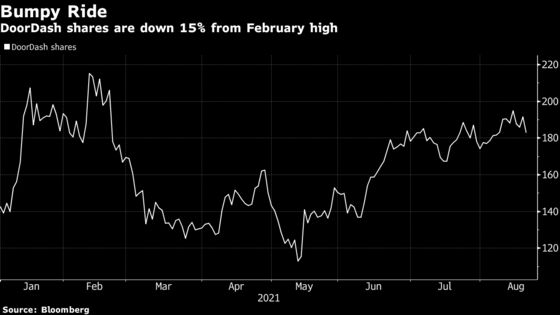 The deal follows warnings from analysts that SoftBank may trim its stake after DoorDash forecast a seasonal decline in new customers and order rates.
The stake represents nearly a week of average trading volume and is worth $2.2 billion based on Wednesday's closing price. The block trade offers investors a discount of up to 4.5% from that level.
A spokesperson for DoorDash declined to comment, while SoftBank did not respond to requests seeking comment.