Coronavirus Lockdown Is Even More Bad News for Diesel
Coronavirus Lockdown Is Even More Bad News for Diesel
(Bloomberg) -- Add a severe global pathogen to the list of bad news for diesel.
Two metrics for the industrial fuel that traders watch closely -- its premium against crude, and a gauge of supply and demand -- have collapsed this year. For the most part, the rout has been about weaker-than-expected buying from the shipping industry and a mild winter. The novel coronavirus in China, though, has exacerbated the slide because it's meant a clampdown on travel that's negative for fuel demand, and a weakening of investor sentiment across assets.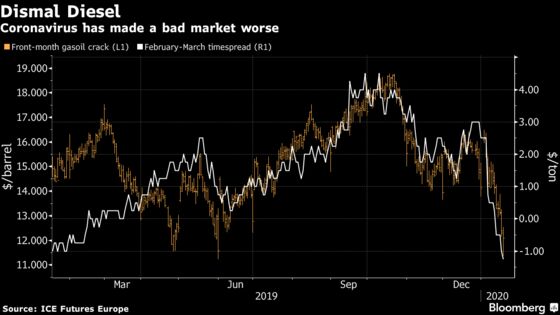 The lock-down of cities in China likely means weaker demand for diesel, said Olivier Jakob, the managing director of Petromatrix GmbH in Zug, Switzerland. The margin, or crack, for jet fuel, has also been adversely affected. Both fuels are known as distillates.
"The impact of coronavirus translates into global pressure on distillate cracks and the prices," he said.
Oil refiners were making $9.83 a barrel from turning crude oil into diesel on Monday, the lowest in almost two years, ICE Futures Europe data show. Late last year, the same spread stood at about $15. Traders are paying about $1.75 a ton less for diesel in February than for March, compared to a $3 premium late last year.
There's similar weakness in the jet fuel market. The two products are closely related. Profits for producing jet fuel in Asia fell to the lowest in nearly four years after a spate of travel restrictions and flight cancellations.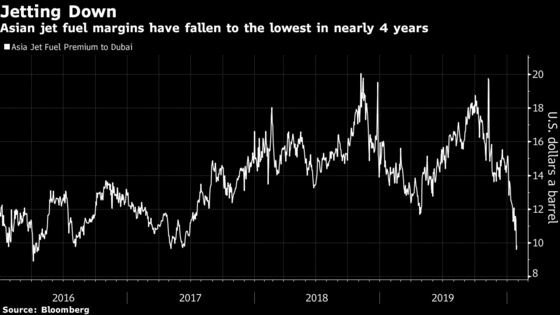 "Slowing air traffic has clearly dented Chinese jet fuel demand over recent days," RBC Capital Markets analysts including Mike Tran said in a Jan. 27 research note. Jet fuel has been the firmest part of China's oil demand growth in recent years, averaging about 11% a year, according to Tran.
Read more: Virus-Hit Air Travel Sends Asia Jet Fuel Margins Near 4-Year Low
The fuels are getting hit across the globe. Diesel margins in New York sank to an 18-month low Monday, with concerns about the virus exacerbating the impact of a mild winter that already curtailed demand.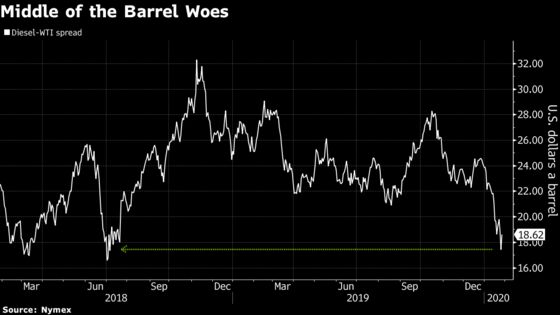 "There's very little good news when it comes to the middle distillate part of the barrel," said Steve Sawyer, director of refining at FGE, an energy consultancy.
Looking forward, planned work at refineries in the Middle East -- a region that sends a lot of middle distillate to Europe -- should provide some support, he said. That will be followed by seasonal maintenance in the U.S. and Europe.
--With assistance from Serene Cheong and Dan Murtaugh.
To contact the reporter on this story: Jack Wittels in London at jwittels1@bloomberg.net
To contact the editors responsible for this story: Alaric Nightingale at anightingal1@bloomberg.net, David Marino, Mike Jeffers